Good For:
Lunch, Dinner and BBQs
5 medium potatoes

2tblsp olive oil

100g diced bacon

3tsp fresh breadcrumbs

1/2 tsp sesame seeds

1/2 tsp pumpkin seeds

2 tsp flaked almonds

1/4 tsp poppy seeds

3tsp fried shallot

1tsp ground almond and sunflower mix- optional

2 spring onion- sliced

100g cream cheese

1 lemon- juice and zest

1/2 tsp Dijon mustard

1 clove garlic- pureed

1tsp vinegar of choice

5tsp vegetable oil- for dressing

3tsp olive oil- for dressing

pinch cayenne pepper

salt and pepper to taste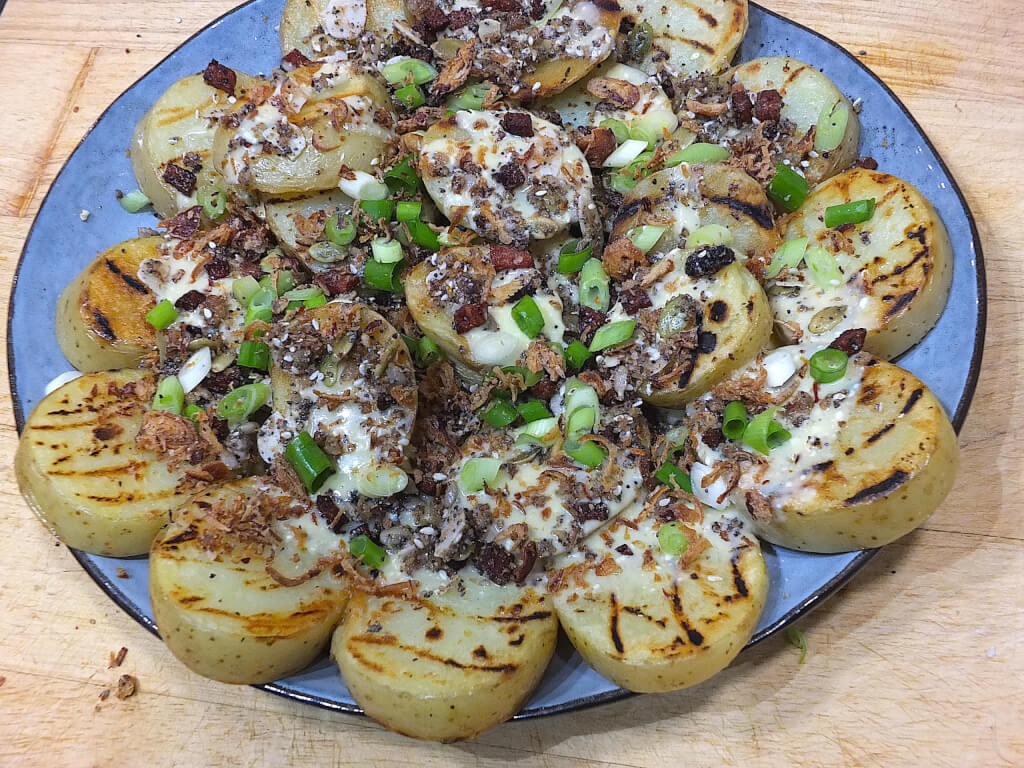 Step by Step Instructions
Step 1
Wash and scrub floury potatoes, not waxy varieties when grilling.
Slice the potatoes into 2cm thick slices and place them into a colander to wash. Wash and drain and then place into a pot, cover with salted water and cook for between 7 -10 mins to ¾ cook. Drain and gently place onto a tray. Sprinkle with olive oil.
Step 2
Using either a warm BBQ, griddle plate or large frying pan, char potatoes lightly browning them on both sides and then place onto a serving dish. 
Step 3
In a hot frying pan, fry bacon and bread crumbs in olive oil until golden brown. Remove onto a paper towel. Add almonds, pumpkin and poppy seeds to the breadcrumbs and stir through. If adding ground nuts, add those now to the crumbs. 
 Step 4
To make the dressing first soften the cheese using a wooden spoon.
Add lemon juice and zest, mustard, garlic, sugar, cayenne pepper,  and both oils. Stir to the desired consistency. If not immediately using then refrigerate but remove from the fridge an hour before serving.
Serve at room temperature.
  Step 5
Spoon the dressing over the potatoes. The potatoes can be warmed through if not eaten straight away. Scatter the bacon nut crumb over the dish and then sprinkle with sliced spring onions.
Your friends will thank you for bringing this dish to the BBQ party. 
No Results Found
The page you requested could not be found. Try refining your search, or use the navigation above to locate the post.