4 balls of ice cream- choice of flavour or flavours
20cm x 10cm piece of sponge (or approximately)- chocolate or vanilla
100g egg white (or 2 egg whites approx)
200g caster sugar
50ml water
pinch cream of tartar
squeeze lemon
pinch salt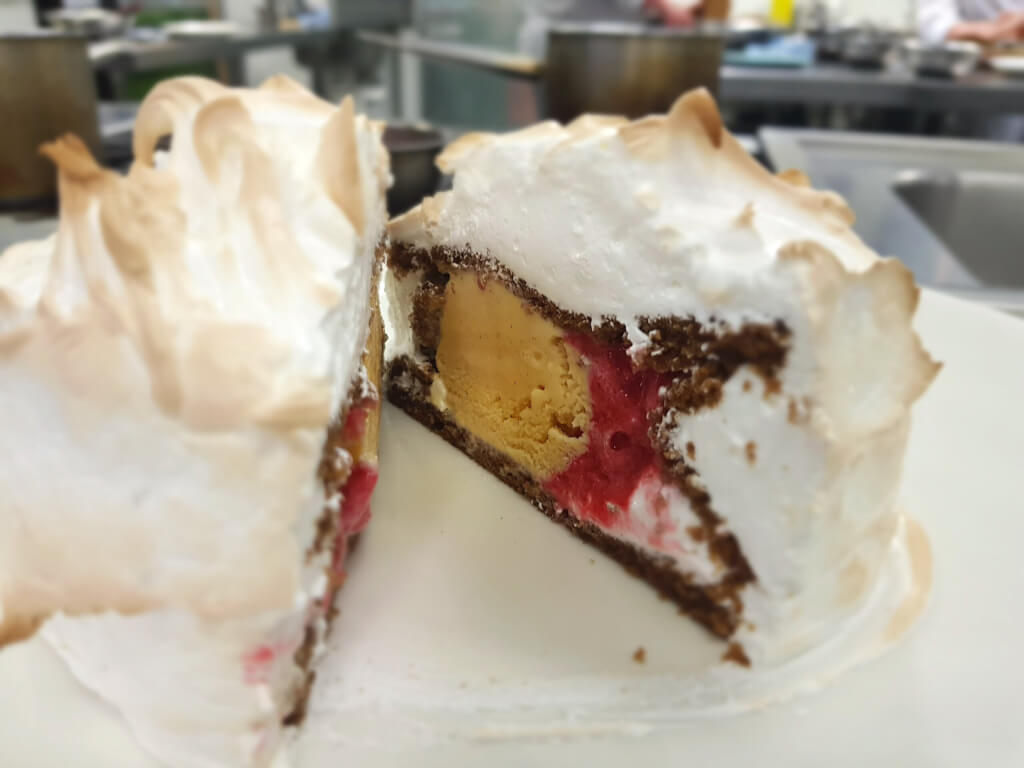 Step by Step Instructions
Step 1
Start by balling up your ice cream as you want them quite firm, but not rock hard and icy. Ball any flavour or combination you prefer, scoop onto a tray and place the tray into the freezer to firm a little.
Step 2
This recipe makes two Baked Alaska's, each suitable for two people. 
Each Alaska requires 2 discs and a rectangle piece for the sides. Slice the sponge horizontally to form 3 even pieces of equal thickness. Put onto a lined tray and place into the freezer to firm up. 
Preheat an oven to 230°C.
Step 3
To make the Italian meringue, rinse a  clean pot with cold water, empty and place over medium heat. Add measured water and sugar. Bring the sugar to a simmer and stir once or twice only at this stage.
Increase the heat to medium-high, add cream of tartar and continue cooking on rapid heat. Don't stir at any stage while boiling as this will seize the sugar. 
 Step 4
If using a sugar thermometer boil to 118°C, if not go to the old trusted method which requires testing in cold water until the mixture forms a soft ball. Place a little sugar into cold water, and squeeze the mixture, if it's too soft, continue cooking. It wants to feel soft like chewed bubble gum. 
While the sugar is boiling, whisk the egg whites and lemon juice to firm peaks, and add the salt.
While whisking, slowly pour and whisk in the sugar syrup. Continue whisking the mixture until it cools to room temperature. This will take 5mins.
Place Italian meringue into a piping bag with a star nozzle (or other). 
Step 5
Remove the sponge, use a cookie cutter to cut 2 discs from each slice (4 discs), and cut the third slice in half to form 2 strips. 
To assemble each Alaska, and do the two at once if confident or one at a time if not (finish one, place into the freezer while you do the other), place 2 discs of sponge onto a lined tray. Put 2 scoops of ice cream on each disc, press each strip around the ice cream, and join the ends. Cover each with the other discs, to hide the ice cream. Press a little to help form.
Step 6
Working quickly, pipe meringue all around and over the sponge. Hide the sponge completely. I use a warm dry palette knife to smooth a thinner layer around the edges (place into hot water, dry, use).
Place into the preheated oven for 5mins or until golden glazed all over.
Serve and eat immediately. This dessert works very well with unsweetened fruit salads like orange or kiwi. 
Step 7
My version pictured used freshly made cinnamon ice cream and raspberry sorbet but if using sorbet you have to work extra fast or do it one at a time (if following the recipe). 
Perfect for a dinner party and you can make them ahead of time and leave them in the freezer until required. If doing this remove from freezer for 15mins before baking. 
If making this dessert why not share at #familykitchenwithmark
No Results Found
The page you requested could not be found. Try refining your search, or use the navigation above to locate the post.