Good For:
Morning tea, lunch, dinner, picnic, afternoon tea
200g chopped dark chocolate
115g butter
150g caster sugar
3 eggs
75g brown sugar
70g flour- sifted
25g cocoa- sifted
1/2 tsp vanilla
pinch salt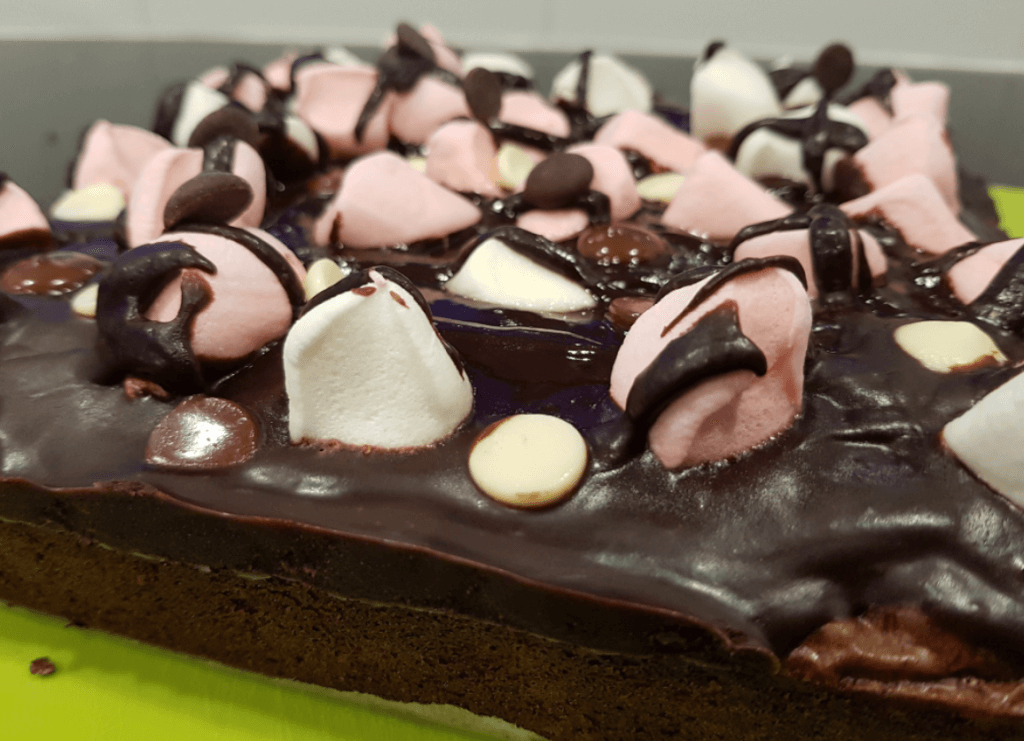 Step by Step Instructions
Step 1
Preheat an oven to 160°C and lined a baking tray of approximately 40cm by 20cm with greaseproof paper. 
Step 2
In a medium sized mixing bowl, add both sugars as well as the eggs and whisk for 5-10mins until light, creamy and doubled in size. 
While the eggs and sugar are beating, melt together chocolate and butter over a bain-marie of hot water. Once melted remove from the bain-marie to cool for 5mins.
Step 3
Sift together the cocoa and flour.
Once the melted chocolate has cooled for 5mins, add to the beaten eggs and sugar. Fold the chocolate through the egg mixture using a spatula or wooden spoon.
Step 4
Once the chocolate has been gently mixed through the eggs, add the flour and cocoa and fold through. Mix through the vanilla and salt and pour into the lined baking tray. 
Step 5
Place tray into the middle shelf of the pre-heated oven and bake for between 25-35mins. If the tray is the same size as mine, or the uncooked brownie is 4-5cm deep then the brownie will take 30mins to cook.
The brownie should be a little bit under-cooked, so please don't worry if the brownie sinks a little once removed from the oven.
Cool the brownie for at least 10 minutes on a cooling rack, after which place into the fridge until cold (before portioning). 
Step 6
The brownie will be fudgy, melt in your mouth good. If you want to ice the cake, why not use our ganache recipe to pour over the top. 
No Results Found
The page you requested could not be found. Try refining your search, or use the navigation above to locate the post.