Good For:
Dessert, bring a plate
1 piece vanilla sponge (approx 20 x 20cm)

500g frozen tropical fruit- defrosted

1 lemon
1 1/2 pkts raspberry jelly crystals (85g pkts)
300ml boiling water
400ml cold water
35g custard powder
500ml milk
125g cream
40g brown sugar
1/4tsp vanilla
150ml whipped cream
1tsp icing sugar
45g chopped dark, white and milk chocolate (or one of the three varieties)
Alcohol – if you wish to include use 75ml.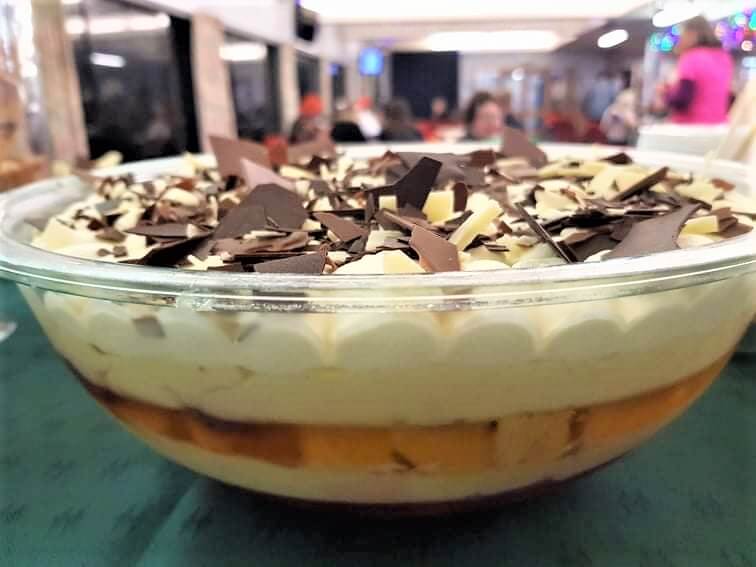 Step by Step Instructions
Step 1
Pour jelly crystals into a bowl, whisk through the boiling water and leave to stand for 2-3mins.Whisk again after and add cold water, stir through. 
Step 2
Using a bowl which is approximately 20cm in diameter (glass is preferable), pour half the jelly into the bowl.
Cut the sponge into large cubes and arrange half the sponge in the jelly. Arrange the sponge to cover the jelly and then place half the  fruit on top. The fruit and sponge will soak up the jelly. Put in the fridge to set.
Step 3
Using a medium pot over medium heat, warm the milk, cream and vanilla (not the whipped cream) to steaming. 
Dilute the custard powder with 3tsp water and mix through to a slurry. Pour the slurry into the hot milk mixture and whisk through.
Swop over to a wooden spoon and cook over a medium heat for 5mins or until the custard is thick in consistency. Pour into a bowl, place glad wrap on top actually touching the custard (to help prevent a skin) and leave on the side to cool, not the fridge. 
Step 4
Remove half the custard from the bowl and whisk through for 30secs to smooth through and make it easier to work with.
Pour the custard over the jelly and place back into the fridge to set for 20mins. 
After 20mins, arrange the rest of the cubed sponge over the custard, sprinkle the rest of the fruit over, and if you're using alcohol, drizzle the alcohol over the sponge.
Pour the cooled jelly over the sponge and fruit and place back into the fridge to set for 20mins. 
Step 5
Whisk through the rest of the custard and once the top layer of jelly is set, pour the rest of the custard over. Spread until evenly coating the jelly. Place back into the fridge for 10mins. 
Step 6
Once the trifle has set in the fridge for 10mins, either pipe or spread the whipped cream over the custard. 
Sprinkle chocolate over the custard and place back into the fridge until ready to eat. 
Step 7
The trifle will last for three days in the fridge at between 1-4 degrees.
I've grown up loving trifle but it's got to be done correctly by setting each layer to help suspend the next. 
Happy baking. 
No Results Found
The page you requested could not be found. Try refining your search, or use the navigation above to locate the post.