Ready In:
30mins (with pressure cooker) OR 1hr 10mins
Good For:
Lunch or Dinner
450g pork belly slices- with bone

300g onions-sliced
100g chick peas
2tsp tomato paste
1/2 tsp caraway seeds
1/2 tsp allspice
3 cloves
1 stick rosemary
1 1/2 tsp smoked paprika
2 bay leaves
1/2 tsp coriander seeds
1 tsp chicken stock powder
1 stick celery-chopped
550ml water
1tsp salt
1tsp mustard seeds
300-350g cooked long grain rice- cold
Step by Step Instructions
Step 1
I'm using a pressure cooker for this dish meaning it'll be ready in 15mins but if not, use a pot and lid and cook for 1hr 10mins. 
Step 2
Add all the ingredients to the pressure cooker apart from the rice. Close the lid and pressure cook for 15mins.
Remove from the stove and allow to sit for 5mins.
Step 3
Remove the lid from the cooker and leave to rest for 5mins.
Stir through the cold heat and heat gently over a medium heat until the rice is hot.
Step 4
Serve this dish garnished with fresh herbs like parsley, chives or oregano.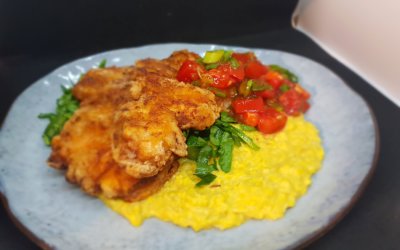 Servings 3Ready In: 40minsGood For: Lunch or DinnerIngredients 650g chicken thigh (on the bone) 1/2 tsp garlic salt 1 tsp paprika pinch mixed spice pinch dried chilli 300ml buttermilk 150g corn flour Vegetable oil for frying 1 onion-sliced 1 clove garlic-sliced pinch...
read more