Good For:
Lunch or Dinner
600g chicken- on the bone

1/2tsp turmeric

5 cloves garlic- smashed

3tsp curry powder-of your choice

1/2 tsp dried chilli- I would add more if want spicy

1tsp fennel seeds

1tsp cumin seeds

1/2tsp rock salt

30ml vegetable oil

100ml natural yoghurt

60g butter

3 onions- coarsely chopped

1tsp coriander seeds-toasted and crushed

6-7 whole cloves

1/2tsp ground cinnamon

5 fresh tomatoes- chopped

1tsp chicken stock powder

200ml water

200ml coconut cream

salt and pepper to taste

20g fresh ginger

20g fresh coriander- chopped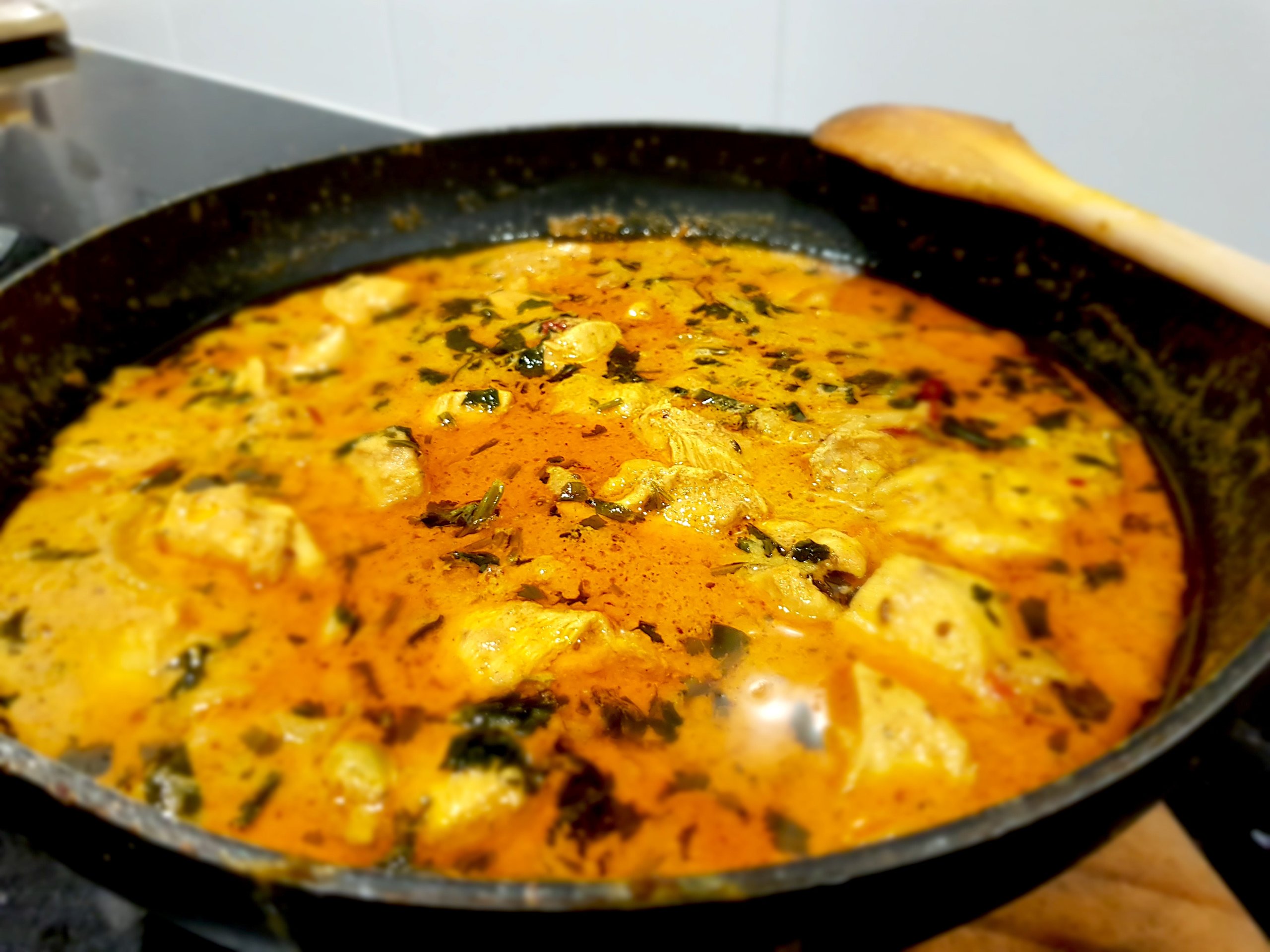 Step by Step Instructions
Step 1
In a frying pan, toast the fennel and cumin seeds for 2 mins. Crush them with a pencil and mortar, back of a pan. Just rub against the seeds on a chopping board. 
Cool the seeds and mix together with turmeric, garlic, curry powder, dried chilli, rock salt, oil and yoghurt,
Rub this mixture into the chicken.
Cover with glad wrap and marinade between 2- 24 hrs in the fridge (Up to you on how long you marinade, I marinade for longer than that sometimes).
Step 2
In a large pot, and over high heat, add the butter, to melt over high heat.
Add the onions, cloves, cinnamon and coriander seeds and cook for 3 mins. Season with salt and pepper.
Step 3
Add chicken to the pot of onions but DON'T STIR IMMEDIATELY. Leave the pan on high but wait for the pan to heat up.
You've just added cold chicken. Wait for 1-2mins until you hear sizzling before stirring. Cook the chicken for another 4mins and then add the tomatoes.
Step 4
Cook the tomatoes for 2-3mins. Add chicken stock powder, coconut cream, water and seasoning. Bring up to a simmer and cover with a lid. Adjust temperature to a low setting. 
.
Step 5
Cook over low heat for one hour.
Halfway through the cooking, add grated ginger and chopped coriander. 
The sauce should be slightly thickened and the chicken falling off the bone.
.
Step 6
It's critical to leave the curry to cool for at least 20mins before serving. The curry will taste a lot better when following this suggestion. 
Meat should rest to allow it to absorb the cooking juices. 
.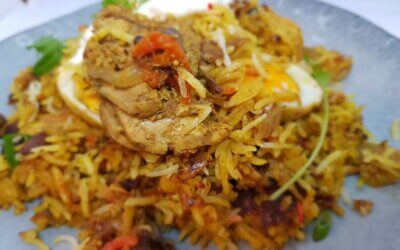 Servings 8Ready In: 1 hr 15min   Good For: Lunch, dinner, celebrationIngredients 1.5 x recipe chicken curry (from our recipes) 20g butter-for greasing tray 600g basmati rice (I use a premium brand called Kashish) 225ml warm milk 60g dried fried onions or shallots 100g...
read more