Ready In:
30min            curing for 3hrs
Good For:
Main Dish & Picnic
Blackened Seasoning: 2 tsp onion powder, 2 tsp dried thyme, 2 tsp smoked paprika, 1 tsp dried chilli, 2 tsp coriander powder, 2tsp cumin powder, 1tsp mustard powder, 1tsp Szechuan peppercorns- crushed, 1tsp garlic powder, 2 tsp table salt

6 chicken drumsticks

500 ml water- warm

3tbsp sea salt

2tbsp brown sugar

2tsp spices of choice- I'd use cinnamon, vanilla, allspice

1 tsp star anise

2 cloves garlic

1 fresh chilli- chopped

4 slices lemon

4tsp veg oil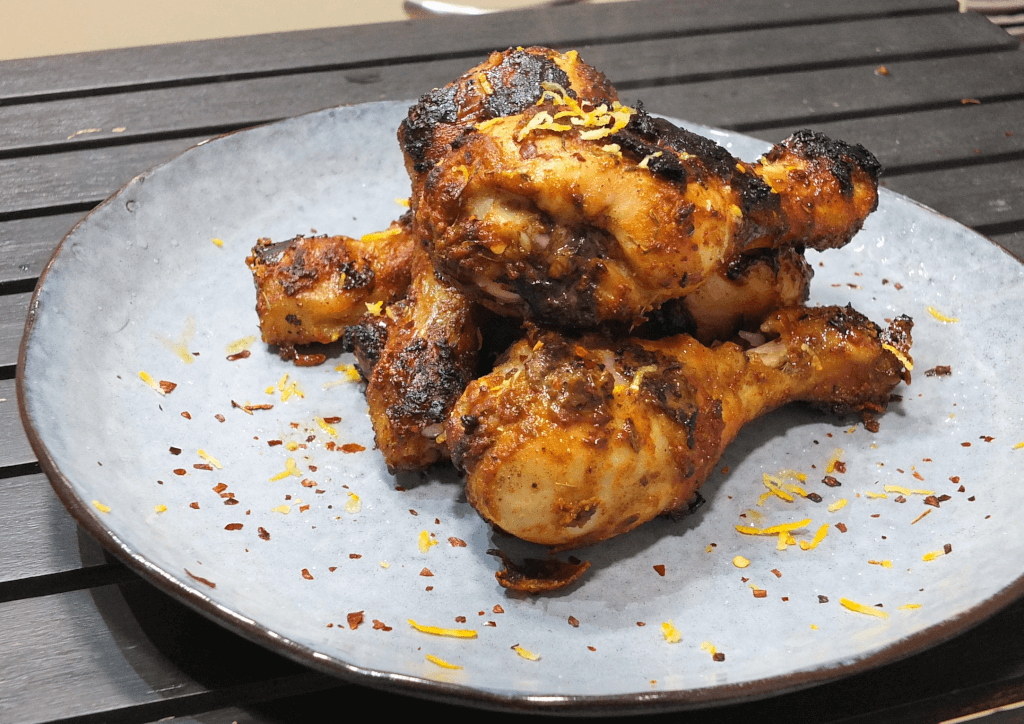 Step by Step Instructions
Step 1
Mix together Mark's curing solution by adding to a bowl warm water, salt, brown sugar, spices of choice, star anise, garlic, chilli and lemon. Leave to stand for 10 mins.
Add the chicken and leave it to cure in the fridge for 3hours.
Step 2
Remove chicken from the cure, pat dry with a paper towel.
Rub a little oil around the chicken and dust in blackened seasoning. 
Step 3
Cook on hot BBQ, griddle plate or large frying pan. Place the chicken onto the heat and grill for 6mins browning on all sides.
Lower the heat and continue cooking for 10-15mins. If you prefer you can finish in an oven at 200°C and cook for a further 15mins.
Total cooking time should be 20mins either method.
Step 4
Check to see if the chicken is cooked. Are the juices clear, does the knife feel hot to touch when placed into the thickest part?
Step 5
Before serving, sprinkle more blacked seasoning over the chicken. Serve with fresh lemon.
Delicious served with sour cream and spiced chutney like apple or mango. 
Link to Video Demonstration
Mark has cooked up 5 dishes in this video. The chicken dish begins at minute 13.45
No Results Found
The page you requested could not be found. Try refining your search, or use the navigation above to locate the post.