Good For:
Lunch or Dinner
1.1kg chicken drum sticks

2tsp veg oil

1tsp dried rosemary

1tsp garlic salt

1tsp Italian herbs

1tsp allspice-crushed

500g agria potatoes- cut into 3-4 cm pieces

70g spinach

150g mushrooms-thickly sliced 

1 onion- coarsely chopped

250ml chicken stock

1 1 /2 tsp mustard

200ml cream

100ml milk

2tsp vinegar

1dsp onion confit (see recipe for this on my website).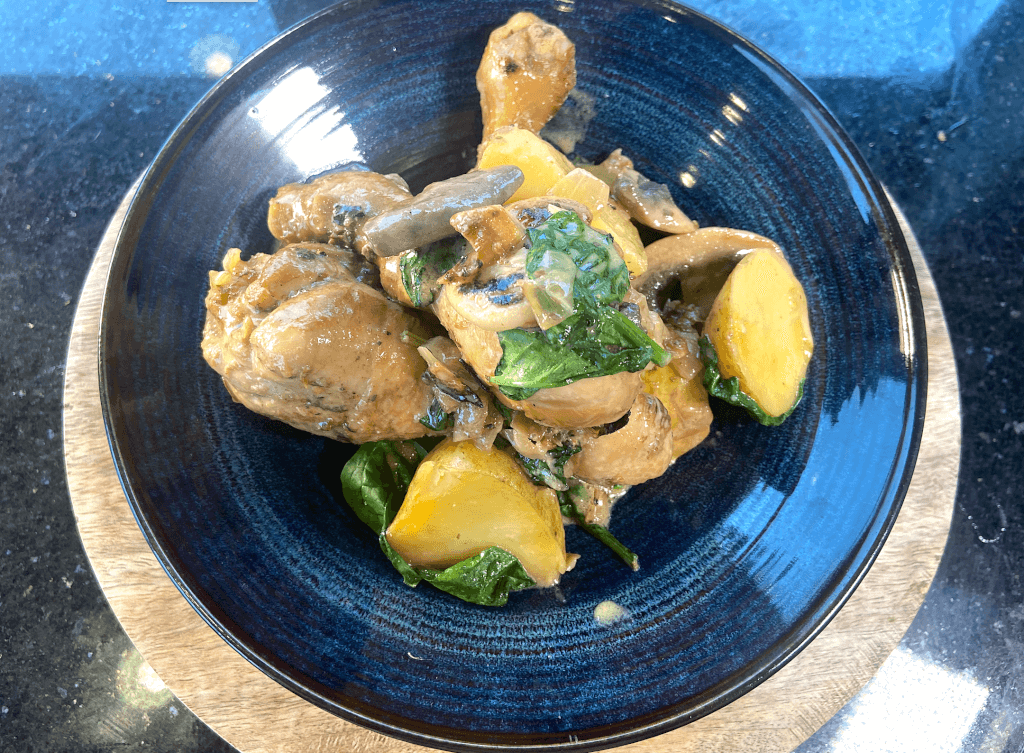 Step by Step Instructions
Step 1
Marinade chicken in a mixing bowl together with vegetable oil, rosemary, garlic salt, Italian herbs and allspice, Leave to infuse for 5mins.
Add pieces of potato to pot, cover with water, season with salt and bring to a boil. Cook for 2mins, pass and reserve for later. 
Step 2
In a large frying pan on high heat, add the chicken in one layer to brown one side lightly. Add more oil if required to help brown.
Turn chickens over, add onions and cover pan with a lid or tray to steam lightly for 2mins.
Step 3
Add mushrooms to pan, season and stir through.
Add vinegar, milk, cream, mustard, stock powder, and cover with a lid. Cook over medium heat for 20-30mins depending on the size of the chicken.
Make sure to check that the chicken is cooked first before moving to the next step. 
Step 4
Remove the lid from the pan, add the blanched potatoes to the chicken, cover with lid again and cook over low heat for 5mins. 
.
Step 5
Remove lid, stir the chicken and potato lightly. Turn off the heat.  Add spinach and onion marmalade to the pan and cover with lid again for 5mins. 
.
Step 6
Season chicken with fresh lemon juice and milled pepper. If you wish to have a slightly more sour flavour then add more onion marmalade. 
Step 7
This dish uses steam as a  cooking method to reduce the quantity of fat in this dish so it's not unhealthy and is full of good nutrients.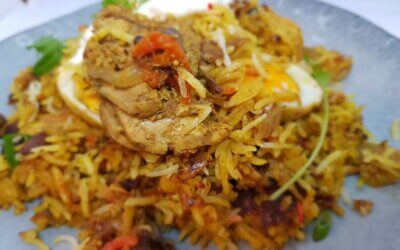 Servings 8Ready In: 1 hr 15min   Good For: Lunch, dinner, celebrationIngredients 1.5 x recipe chicken curry (from our recipes) 20g butter-for greasing tray 600g basmati rice (I use a premium brand called Kashish) 225ml warm milk 60g dried fried onions or shallots 100g...
read more