Good For:
Lunch or Dinner
1.2kg beef or lamb (on the bone)

1 shallot
5 cloves garlic
3cm piece fresh ginger
100ml water
1 red chilli
3 whole cloves
1/2 tsp cumin seed
pinch nutmeg
1/2 tsp coriander seeds
4 cardamom pods
1/4 tsp cinnamon
4 bayleaves
30ml vegetable oil
1tsp soy sauce
2 star anise
20g fresh tamarind
1/2 tsp fish sauce
800g peeled and thickly sliced potatoes
400ml coconut milk
1tsp lemon juice
2tsp brown sugar
200ml water
2ts fried shallots
2tsp coriander
2tsp peanuts-chopped (optional)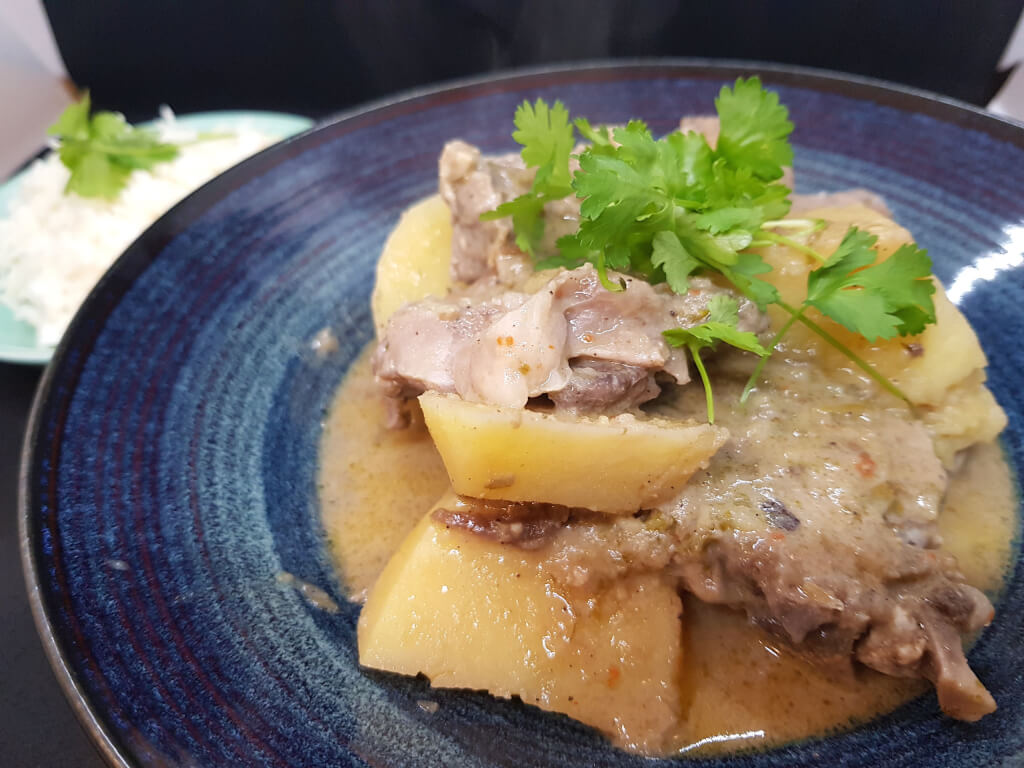 Step by Step Instructions
Step 1
First we make the paste or base. Blend together shallot, garlic, ginger, chilli, cumin, nutmeg, coriander seed, cardamom, cinnamon and 100ml water to a smooth paste.
Step 2
In a large pot over a high heat, add vegetable oil and then fry the paste for 3mins. Season with salt and pepper.
Add the meat and stir through. Cook for 2mins. Season.
Step 3
Add soy sauce, bayleaves, coconut milk, lemon juice, star anise, fish sauce, sugar, tamarind and 200ml water to the pot of lamb. The liquid should remain slightly above the meat during cooking. Add more water if required.
Step 4
bring pot to a simmer, lower the heat to low, and then cook with a lid for 1hr 10mins. Season to taste.
Step 5
Remove the lid and add potatoes. Ensure you have just enough liquid to just cover the potatoes and meat. Add more water if required. Season slightly and add more chilli if you like the curry hot. Cook for another 15mins.
Step 6
Remove the pot from the stove. Check that both the meat is tender (it should fall from bone) and the potatoes are cooked.
Very important to allow the curry to rest for 10mins before serving.
Step 7
After 10mins resting which will allow for supreme tenderness and elevated flavour it now ready to serve.
Serve with chopped peanuts, coriander and fried shallots.
Step 8
This curry is traditionally made with beef but I thought I'd try with lamb which proved to be a big success with customers who ordered it. 
The curry is mild so if you wish it to be more spicy, simply increase the chilli content.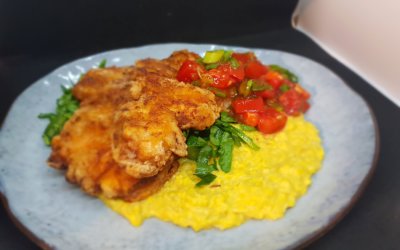 Servings 3Ready In: 40minsGood For: Lunch or DinnerIngredients 650g chicken thigh (on the bone) 1/2 tsp garlic salt 1 tsp paprika pinch mixed spice pinch dried chilli 300ml buttermilk 150g corn flour Vegetable oil for frying 1 onion-sliced 1 clove garlic-sliced pinch...
read more