Ready In:
15min        (proof for 2hrs)
Good For:
Lunch, dinner, picnic, party food, children's gathering
370g strong flour plus 120g sourdough starter
OR 460g strong flour (if not using sourdough)
190ml warm water
215-230ml warm water (if not using sourdough)
2 tsp instant dried yeast
1.5 tsp salt
1tsp cumin seed
1 tsp chopped thyme and oregano
3tsp olive oil
2tsp tomato paste
1 tsp sugar
250ml tomato sauce (see recipe on this site)
3tsp extra virgin olive oil
450g pork mince
1tsp Moroccan spice
1/2 tsp paprika
2 cloves garlic-minced or chopped fine
2 bunch of asparagus
160g grated mozzarella
2tsp vegetable oil
Spray oil for cooking
olive oil and black pepper to finish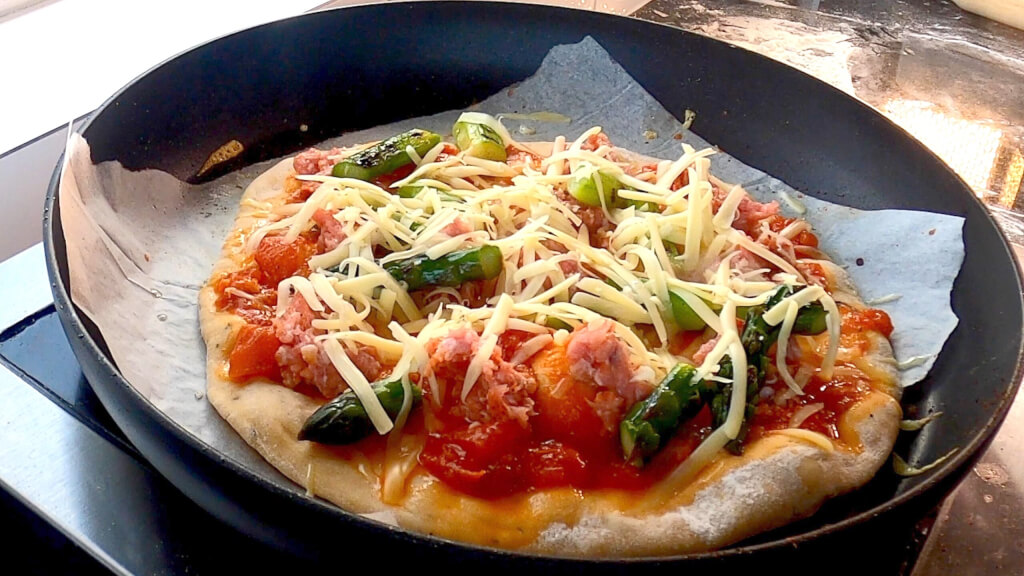 Step by Step Instructions
Step 1
Light, crisp, a pizza bread that can be done at home without much fuss.
If using a sourdough starter or not, the recipe works perfectly for both. Ensure to feed the starter three days before use to make it as active as possible.
Soak the yeast with a little of the measured water for up to 10mins.
Step 2
In a large bowl or if you prefer a stand mixer with dough attachment, add the flour, salt, cumin, olive oil, water and yeast mixture to the middle of the flour and mix into a soft dough.
If using a mixer, add the wet ingredients while the mixer is working and mix to a wet dough.
After mixing into a dough you have to knead the dough to develop the gluten. Press and roll the dough for 10mins or until the dough springs back once pressed. Put into an oiled bowl and cover with a wet cloth or glad wrap to proof for 2 hours in a warm place.
Step 3
The dough is ready once it doubles in size. Placing in a warm place will speed up this process. 
Next trim & peel the asparagus and cook in boiling salted water for up to 2mins. Drain, refresh in cold water, cut into pieces large or small (it doesn't matter)and reserve for later.
Step 4
To marinade the meat, mix together the pork mince, Moroccan seasoning, salt, pepper, paprika and garlic. Mix together and place into the fridge for later. 
Step 5
Once the dough is ready, and this is when the dough has doubled in size, scale or rip the dough into 6-8 pieces and then roll each into a ball. Cover with a cloth or oiled glad wrap and rest for 5mins.
Set your oven to 220°C.
.
Step 6
Using flour and a rolling pin, roll and stretch the dough into rough circles to your desired thickness.  Heat a large frying pan over medium heat.
Place a rolled piece of dough onto a piece of greaseproof of the same size.
Step 7
Spoon tomato sauce into the centre of the dough and spread over to cover. Now break pieces of pork mince 1/2 tsp size and scatter them over. Finish the pizza bread with mozzarella cheese and drizzle with olive oil and twists of black pepper.
Step 8
Turn up the heat under the frying pan to high, place the pizza bread inside and wait for the pizza bread to crisp at the base to golden brown. Turn down the heat a little too much. As soon as it's brown, use a slice to remove the pizza onto a tray and into the hot oven to finish cooking for up to 5mins depending on how crispy you like it. For me this is 5-6mins but I like mine crispy. 
Step 9
The pizza bread is ready and cooked once golden brown on the top. Remove from the oven and cool for 1min before portioning. 
This pizza bread would be perfect with rocket salad leaves, olive oil and lemon juice and pecorino cheese scattered over. I absolutely love having rocket on pizza but with the pork mince you've got a wonderful combination between the peppery salad and the oily mince, balanced by lemon and milled pepper. 
No Results Found
The page you requested could not be found. Try refining your search, or use the navigation above to locate the post.