Good For:
Lunch or Dinner
550g dry penne pasta (or use another type)

3 Italian sausages (pork and fennel flavour)
1 onion-very finely chopped
2 cloves garlic
350g frozen baby peas
40ml olive oil
1 tsp sugar
1/2tsp salt
30g butter
100ml wine (optional)
1 tsp chicken stock powder
30g pecorino- grated
600ml water
Step by Step Instructions
Step 1
We'll start by braising the peas. In a medium pot, add peas, sugar, chicken stock, salt, wine, water and butter.
Bring to a simmer and then slowly cook for 25-30mins. The reduced cooking liquid should just sit above the peas once cooked. 
Step 2
Using a frying pan over a high heat, add olive oil and break the sausages into small pieces using your hands. Don't use the skin. Toss the sausage pieces and lightly colour for 3-5mins. Remove from the heat and reserve for later. Leave the sausages in the pan. 
Step 3
Bring a large pot of salted water to a rolling boil. Add the pasta and cook until al dente (10-12mins). Stir the pasta during cooking occasionally to help prevent them sticking to each other. Once cooked drain in a colander. 
Step 4
Heat up the frying pan of sausage pieces, add the pasta and stir through over a medium heat for 1min. 
Add the peas to the pasta and while cooking over a high heat, stir and cook for 2 mins.
Step 5
Add pecorino to the pan and toss through. Season to taste and add more olive oil if required.
Add twists of black pepper and serve. 
.
Step 6
The absolute key to a good pasta is finishing in the cooked pasta in the sauce for 2-3mins. The sauce then absorbs into the pasta through heat and thus improves the overall flavour of the dish. 
It's the Italian way. 
Since visiting Italy numerous times over the years, I would never serve a nest of pasta with the sauce in the middle. 
Step 7
This dish can always be made using fresh pasta. Look out for my fresh pasta dough recipe which can be made in advance and frozen until ready to use. 
Step 8
These braised peas can be used in many dishes……as a side dish with roasts, crushed and used as mushy peas, base for fish pie, or as a pasta with prawns or mussels etc tec.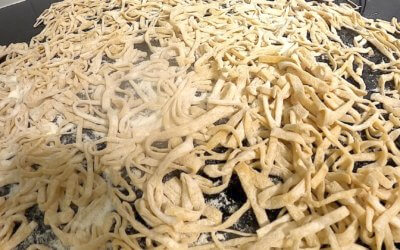 Makes 900gReady In: 5minsGood For: Any pasta dishIngredients 500g strong flour or tipo '00' flour 120g fine semolina 4 eggs- beaten 30ml olive oil 50ml cold water 8g salt flour for rolling Step by Step Instructions Step 1 It's essential to use strong flour when making...
read more