Good For:
Lunch, Dinner or Sandwich Filler
240g couscous

1 bunch parsley-continental- finely chopped

1/4 cucumber-diced

5 cherry tomatoes-cut into quarters

1 cloves garlic-chopped

10 olives- slice half of them

1/4 tsp salt

2tsp stock powder

1 lemon-juice

3tsp olive oil

1 tsp Dijon mustard

1 avocado- diced and mixed with 2tsp lemon juice, 1tsp olive oil, pinch salt

70g feta cheese

4tsp crispy fried onions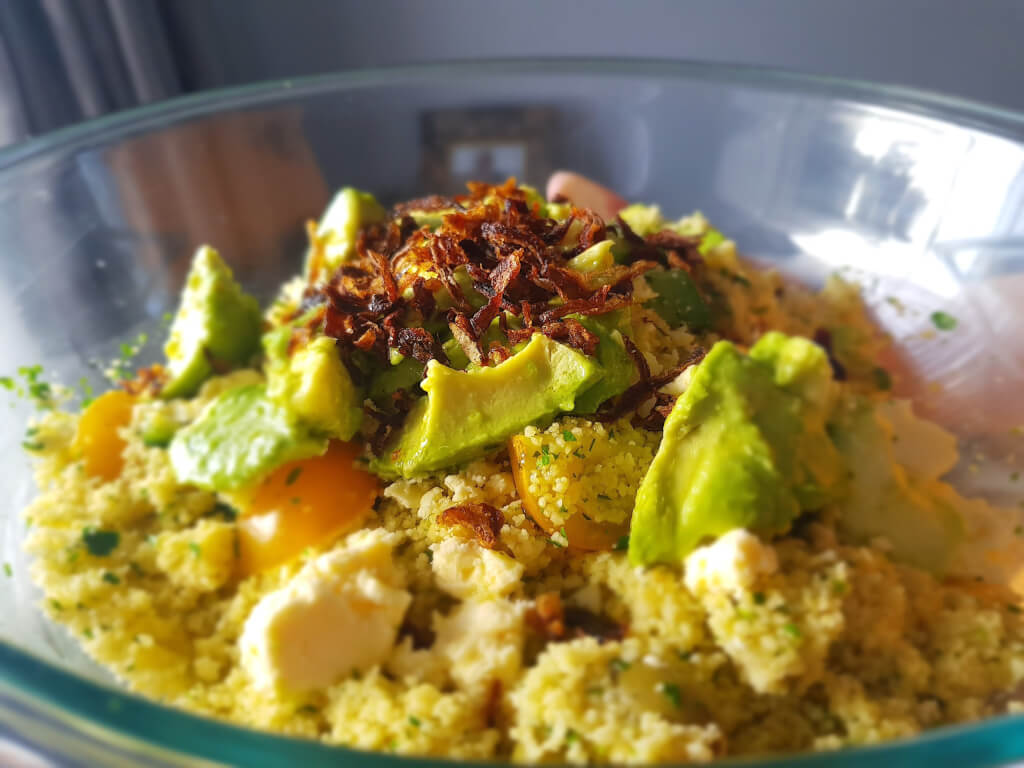 Step by Step Instructions
Step 1
In a large bowl, the couscous should be no more than 4-5cm deep- add the couscous, parsley, cucumber, tomatoes, garlic, sliced olives, salt, stock powder, lemon juice and olive oil.
Step 2
Pour boiling water onto the couscous until the water is 5mm above the top level of the couscous. The couscous should move freely when you shake the bowl.
Cover the bowl with glad wrap and leave to steam for 3 mins.
Step 3
After 3 mins, uncover and lightly fork through the couscous. Start on the top and fork to the bottom. Don't scoop the grains but rather fork through by running the top-side of the fork over the grains.
Do this with all the couscous by loosening the grains.
Step 4
Cover the bowl again with glad wrap and steam for a further 2mins.
Taste for seasoning and stir the mustard through. Add more olive oil to the salad if you like. 
Arrange the avocado and feta cheese over the top, finish with crispy onion.
Step 5
This salad is ideal served with appetiser plates, grilled meats and vegetables, braises and stews and anything with a bit of sauce or grease to it. 
No Results Found
The page you requested could not be found. Try refining your search, or use the navigation above to locate the post.