Good For:
Lunch, Dinner and BBQs
5 medium potatoes- waxy variety

2 spring onion

50-100g aioli 

1tsp Dijon mustard

8 stuffed olives-sliced

1/4 tsp sesame seeds

1/4 tsp poppy seeds

3tsp fried onions-crispy

salt and pepper to taste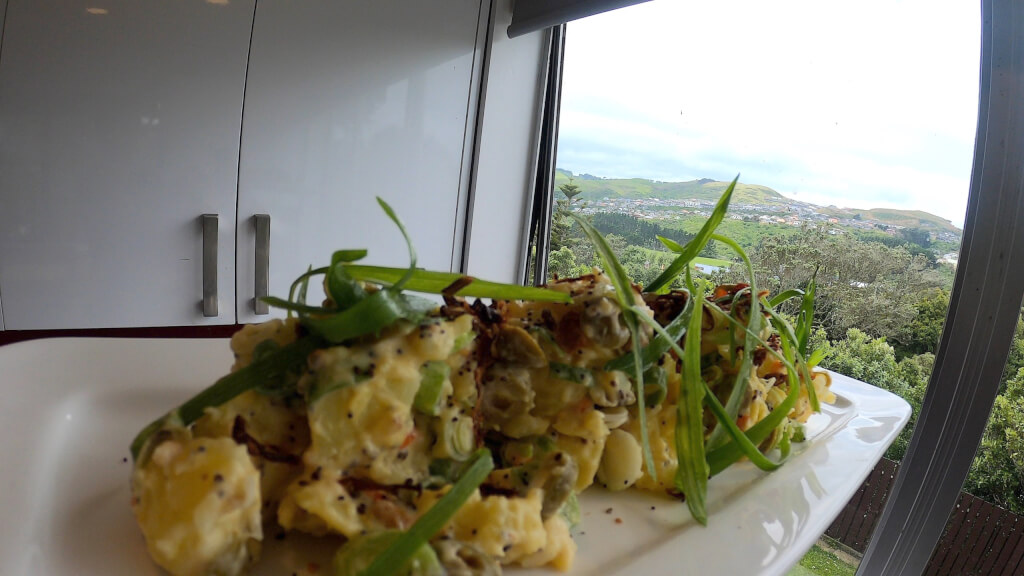 Step by Step Instructions
Step 1
Wash and scrub waxy potatoes. Waxy varieties are best for boiling.
Peel the potatoes, cover with cold water, season with salt, and cook for between 7 -10 mins until tender.
Here's a cool trick, add a couple of slices of lemon to help keep their shape during cooking.
Drain gently in a colander and leave for two minutes.
Step 2
Now for the game-changer, add the aioli to the potatoes while their hot and also don't have the aioli either too thick or too cold.
Remove from the fridge beforehand and thin down if necessary with milk or water. 
 Step 3
Slice the white end of the spring onions thinly and keep the green ends for the garnish. I cut mine into strips.
Add aioli to your liking, mustard, half the seeds and then stir through.
Stir the olives and chopped spring onions through. Give a taste test. 
 Step 4
Arrange salad onto a serving plate or bowl.
Scatter seeds over the top
Arrange crispy onions and green spring onion strips as garnish and texture to this wonderfully simple and full flavoured salad.
No Results Found
The page you requested could not be found. Try refining your search, or use the navigation above to locate the post.