Good For:
Lunch or Dinner
1 recipe mornay sauce- see recipes

1 recipe tomato sauce-see recipes
2 zucchini- sliced into 1/2 cm
1 lrg kumara- sliced into 1cm pieces
2 carrots-sliced into 1/2 cm pieces
2 tomatoes-sliced
3 cups spinach- washed
850g fresh pasta-see recipes OR 800g dry lasagne sheets
2tsp salt
50g flour
80ml vegetable oil
20ml olive oil
1 capsicum- cut into small wedges, seeds removed
80g grated cheese
2tsp chopped parsley
2tsp chives-chopped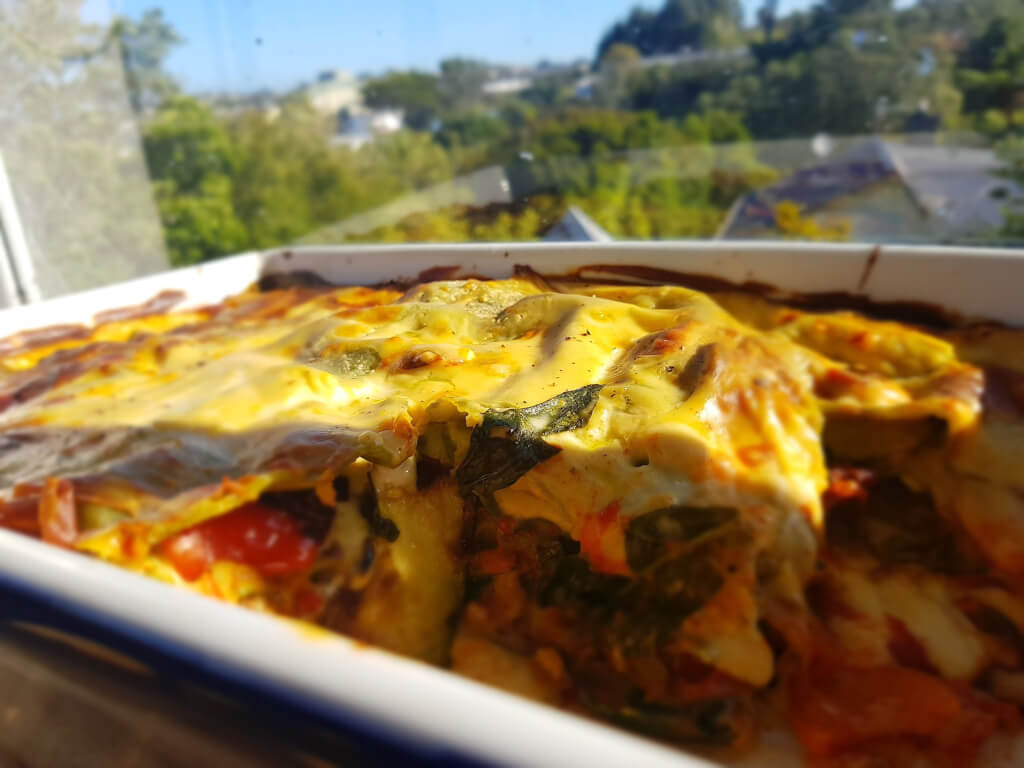 Step by Step Instructions
Step 1
Preheat the oven to 185°C.
Season the sliced zucchini and leave for 10mins. 
Marinade the tomatoes in olive oil, chives and parsley. Season.
Step 2
 Add carrots and kumara to a pot, cover with cold water. Season with salt, bring to a boil and boil for 2mins. Drain and reserve for later.
Step 3
Coat zucchini slices in flour, shake off the excess.
In a large frying pan, add 30ml vegetable oil, add capsicum and cook for 2mins.
Add slices of zucchini to cover pan, cook with capsicum for 3mins. Turn zucchini after 2mins. Remove vegetables from pan and reserve for later.
Step 4
Roll the fresh pasta into sheets rolled to No.2 on a pasta machine. Cut into pieces the same length as the dish you'll be using, mine is 40cm long. Leave them to dry for 5mins. Follow my instructions for rolling pasta in my fresh pasta recipe. If using dry pasta skip to the next step. 
Step 5
Using a large casserole dish approximately 40cm x 20cm, spread 1cup tomato sauce over the bottom of the dish.
Arrange a layer of lasagne sheets to cover the tomato and then layer fried zucchini and 1cup cheese sauce over the pasta. Rip 1 cup spinach over. Season lightly with salt and pepper. Sprinkle half the cheese over.
Place another layer of pasta to cover.
.
Step 7
Add kumara and carrots to the dish. Arrange them over the pasta. 
Cover with another layer of pasta.
Arrange marinated tomatoes over the pasta and add 1 cup tomato sauce and the rest of the spinach. Spread over.
Sprinkle with olive oil.
Cover with another layer of pasta.
Step 8
Add capsicum and the rest of the zucchini. Spread 1 cup of cheese sauce over and cover with another layer of pasta.
Cover with 1 cup of cheese sauce. Sprinkle with olive oil and cheese.
Step 9
Bake for 40-50mins at 185° or until you can place a knife through the layers of pasta with relative ease.
Remove from the oven and leave to rest for 10mins before serving.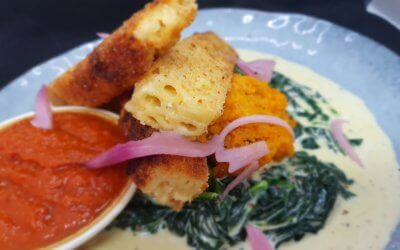 Makes 25 piecesReady In: 30minsGood For: Lunch, Dinner or Party FoodIngredients 300g dried macaroni pasta 75g butter 95g flour 1/2 onion-finely chopped 2 cloves garlic-minced 720ml warm milk 140g grated cheese few drops tabasco few drops Worcestershire sauce 1 tsp...
read more