Good For:
Lunch or Dinner, vegetarian option
400g tin chickpeas

1onion-chopped
2 cloves garlic
30ml olive oil
1 sweetcorn on cob (or tinned)
70g cauliflower florets
1 carrot-diced
20g parsley-chopped
150g kumara-diced
50g spinach
2tsp tomato puree
400g tinned tomatoes
6 leaves basil-ripped
1tsp paprika
1tsp Moroccan spice
1stick celery-diced
1/2 zucchini-diced
50g white cabbage-cut into medium pieces
2 bay leaves
1/2 tsp turmeric
1/2 tsp cumin seeds
100ml water
salt and pepper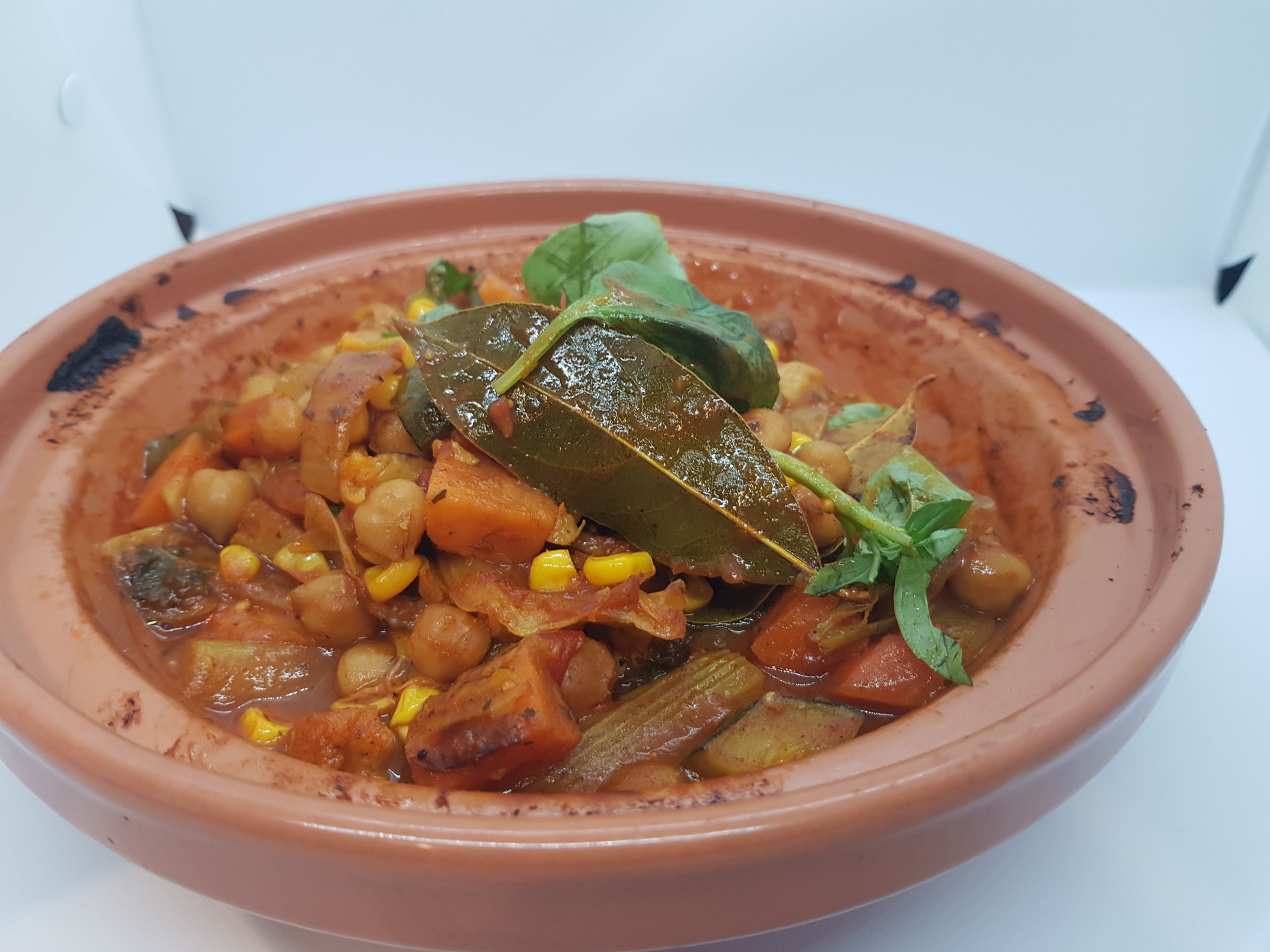 Step by Step Instructions
Step 1
Preheat the oven to 185°C.
Now if you have a tagine pot then this is the perfect cooking vessel, if not don't worry at all just use a casserole pot or tin with foil.
Step 2
 In a large frying pan over a medium heat, add olive oil and then carrots, celery, kumara and onion. Cook for 3mins.
Add sweetcorn, garlic, cumin seeds, turmeric and bayleaves. Cook for 3 more mins over a medium heat.
Step 3
Add tomato puree to pan and cook for 2mins, stir through and season with salt and pepper. 
Add tinned tomatoes, basil, parsley, chickpeas, cabbage and cauliflower. Increase the heat to high, bring to a simmer and then pour contents into a tagine pot or other. 
Step 4
Add Moroccan spice and water to mixture and cover with a lid or foil. Place into the oven to bake for an initial 20mins.
After 20mins, add the zucchini and put back into the oven for another 20mins.
Step 5
After 40mins cooking, taste and adjust the seasoning.
Put spinach into the tagine and put the lid back on for 2mins after which stir through the wilted spinach. 
.
Step 6
This is an ideal dish for either a light lunch with a salad or as a dinner with couscous, flatbread and a fermented relish like lemon, lime or mango.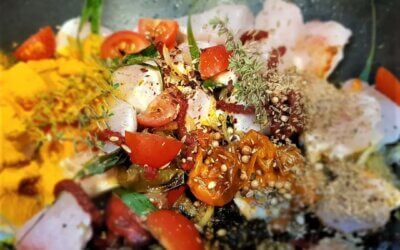 Servings 4Ready In: 15 minsGood For: Lunch or Dinner Ingredients 600g white fish fillets-bones removed 30ml peanut oil 2 spring onion- chopped thinly 4 cloves garlic- sliced thinly 2 sticks lemon grass 10 cherry tomatoes- cut into 1/4s 2tsp tomato puree 2 sticks thyme...
read more