Good For:
Lunch,Dinner or Picnic
290g self raising flour

150g sweetcorn kernels

1 lrg onion-finely chopped
1/2 capsicum-finely chopped
1 small chilli- finely chopped
70g streaky bacon-chopped
1tsp coriander seed-crushed
3 cloves garlic-sliced
70g melted butter
3 lrg eggs
60g sour cream
200ml milk
1tsp white vinegar
1tsp salt
1tsp baking soda
1/2 tsp paprika
1/2 tsp fresh thyme-chopped
90g Chedder cheese-grated
Step by Step Instructions
Step 1
Preheat the oven to 180°C.
Blanch the sweetcorn in boiling salted water for 3mins, drain well after cooking.
Step 2
 Heat a large frying pan over a high heat and add the olive oil. Add onions, bacon, capsicum, chilli and coriander seeds and fry for 3-4mins. Remove from heat to cool. 
Step 3
Mix together the eggs, milk, sour cream and salt, whisk together until combined. Add baking soda and vinegar, stir through.
Step 4
Place flour into a mixing bowl and add the egg mixture, stir together until combined. Mix the vegetables and cheese through the batter. Season to taste. 
Step 5
Divide the mixture into 3 greased and lined loaf tins. If your tins are larger than mine, divide between 2 tins instead and increase the cooking time by 10-15mins. 
I use tins that are 20x10cm. 
.
Step 6
Place tins into the preheated oven and bake for 20mins at 180°C. After 20mins, lower the temperature to 170°C and continue cooking for 30-35mins.
After 50-55mins cooking check to see if the bread is cooked by inserting a skewer and ensuring that it comes out clean. If not continue cooking at 170°C until cooked.
Step 7
After removing the tins from the oven, allow them to cool in the tins for 2mins, after which remove them from the tins onto a cooling rack upside down (on their crust) until compeletly cool. 
Step 8
I serve this bread with sour cream and succotash which go perfectly with braised meats, ribs, grilled chicken, drumsticks etc.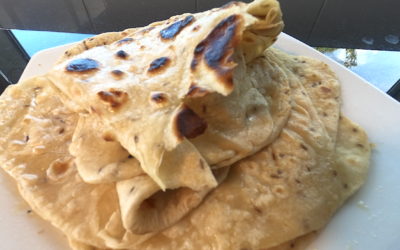 Makes 6 breadsReady In: 20minsGood For: Wrap or garnish bread. Ingredients 350g flour 80g sour starter- see my recipe for sourdough starter 1tsp salt 1tsp cumin seeds 2tsp vegetable oil 250ml water melted butter to serve 350g flour 80g sour starter 1tsp salt 1tsp...
read more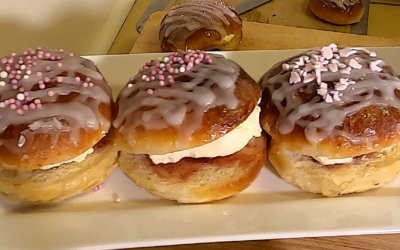 Makes 20 bunsReady In: 1-hour              Proof= 3hrsGood For: Anytime after lunchIngredients Recipe with sourdough starter 450g strong flour 3 cups fed starter dough 70g sugar 8g dry yeast 150ml milk- warm 1tsp salt 2 eggs- beaten 200g butter- soft Recipe for 20...
read more