Good For:
Lunch or Dinner
4 portions of white fish (150g approx) with skin- pin bones removed

6 potatoes- peeled, washed, cut into 3cm pieces

100ml vegetable oil

100g flour with 1/4 tsp salt

1/2 tsp salt

4 handfuls of spinach- washed

4 tbsp dressing PLUS more when serving- your choice. I used fig balsamic.

1 lemon- optional.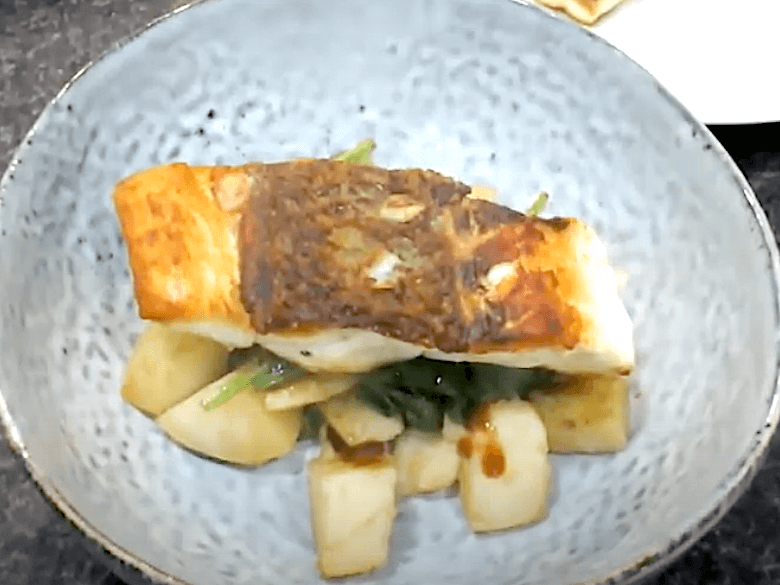 Step by Step Instructions
Step 1
5 minutes and you've got a go to dish that's healthy, quick and delicious.
My warm crispy skinned fish salad isn't a difficult dish and can be cooked with minimal fuss.
Step 2
Ensure to rinse the potatoes before placing them into a pot, covering them with cold water and cooking for up to 15 minutes until tender with a little salt. Little chef TIP: If you add a slice of lemon to potatoes during boiling it helps to hold them together. Drain potatoes once cooked and cover them with a lid.
Step 3
Make sure the pin bones are removed from the fish. Pat the fish dry with kitchen roll paper. Mix together some flour and salt.
Put the skin side of the fish into the flour and pat off the excess.
Heat a frying pan on medium-high and place vegetable oil into the pan. Heat for 1min.
Place fish skin side down into the hot oil. Be careful not to burn yourself. Place the fish in the hot oil away from you. If the oil isn't hot, wait for a little while longer. 
Step 4
Using a fish slice or palette knife apply a little pressure to the fish and press down to keep the fish flat to the pan otherwise it will curl as the proteins cook. Do this for 1 minute and then leave to cook for 2 more minutes. 
.
Step 5
Cook the fish for 3 minutes on the skin side and 2 minutes on the flesh side (if using portions of fish that are 4cm in thickness
Remove fish from pan.
.
Step 6
Remove the lid from potatoes. Add spinach and dressing to the potatoes. Season, lightly stir and cover with lid for up to 3 minutes.
Step 7
Stir potatoes and spinach together. Season to taste.
Spoon onto a plate. Pour a little dressing over the potatoes. Place fish on top, skin side up. Serving with lemon would always be nice when eating fish in this way.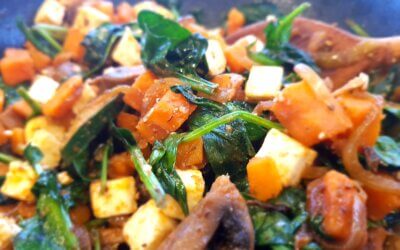 Servings 4Ready In: 50minsGood For: Main Dish, salad, wrap Ingredients 1 kumara (200g)- peeled 1 white onion- peeled 1 stick rosemary 25ml vegetable oil for roasting 100g button mushroom- cut into 1/4s 100g paneer- cut into 2cm cubes 2 cloves garlic-smashed w skin...
read more