Good For:
Lunch, dinner or gathering
600g white fish fillets- I use snapper

2 lrg white onions- diced

80g diced streaky bacon
3cloves garlic-crushed
80g sweetcorn kernals
100g tomatoes- cut into dice
10 green olives- cut in half
1tsp smoked paprika
pinch nutmeg
pinch turmeric
40ml olive oil
2 red chillis
2 bay leaves
3 sticks parsley- chopped
1 stick oregano- chopped
150ml chicken or vegetable stock
1 tsp salt
1/2 lemon-juice only
milled pepper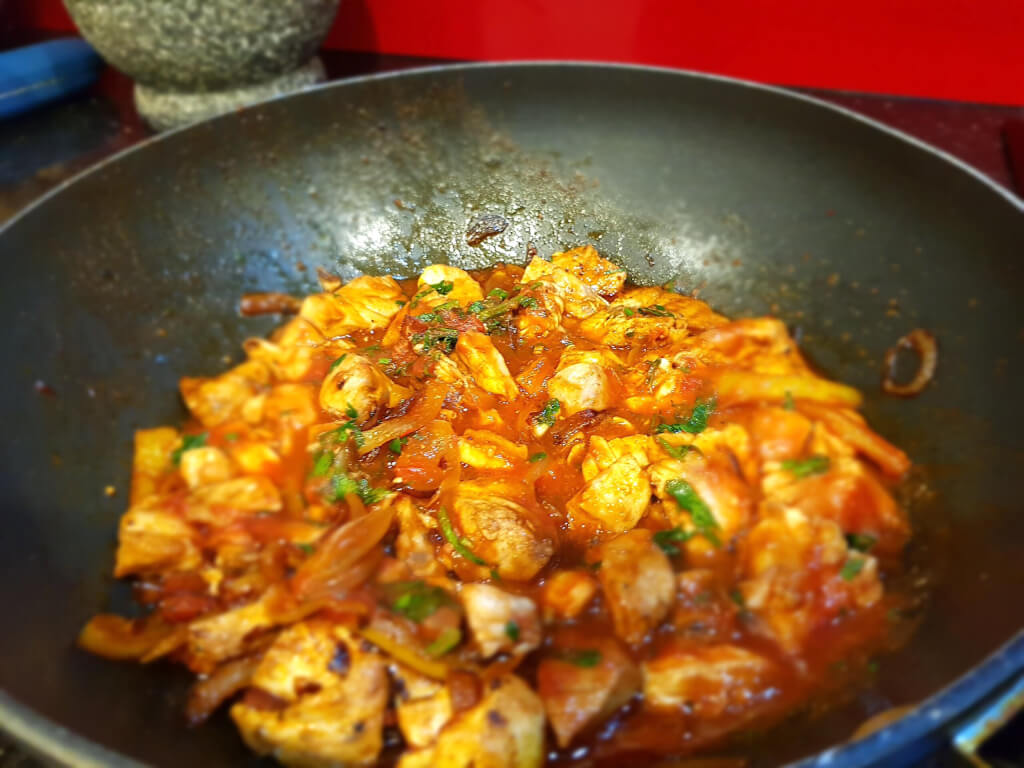 Step by Step Instructions
Step 1
Remove any bones from the fish with either a sharp knife or fish tweezers. We'll leave the skin on for this dish. I always snapper when cooking these types of wet dishes. The texture is perfect for holding flavour and shape to the fish.
Cut into roughly sized pieces approximately 2cm square. Place them in a bowl and season with salt, pepper, paprika and turmeric.  Mix together. 
Step 2
In a large frying pan or pot over a high heat, add the olive oil and then the onions and garlic. Fry until lightly golden brown, about 4mins. 
Add bacon and tomatoes to the onions and cook for another 2mins. 
Step 3
Add fish to the bacon and onions, season with salt and pepper and stir through the rest of the ingredients. Immediately after adding the olives, bay leaves, nutmeg, chilli, parsley and oregano.
Stir through and cook for a further 2min. Season to taste. 
Step 4
Add enough stock to just cover the fish, place a lid on the pot and cook for 5-7mins over a low to medium heat. 
Step 5
After cooking leave the lid on the pot to rest the gumbo for a couple of minutes.
Add lemon juice and season to taste.
This dish has bags of flavour and is perfect by itself.
Serving suggestions would include rice pilaf, boiled potatoes, salad, couscous, tabbouleh. 
No Results Found
The page you requested could not be found. Try refining your search, or use the navigation above to locate the post.