Good For:
Lunch or Dinner
250g strong flour

15ml olive oil- for pasta

25ml cold water

4g salt

2 eggs

1 large onion- sliced

4 eggs-beaten

120g smoked streaky bacon- diced

60g cream cheese

30g freshly grated parmesan

30ml olive oil

1 lemon-juice only

seasoning to taste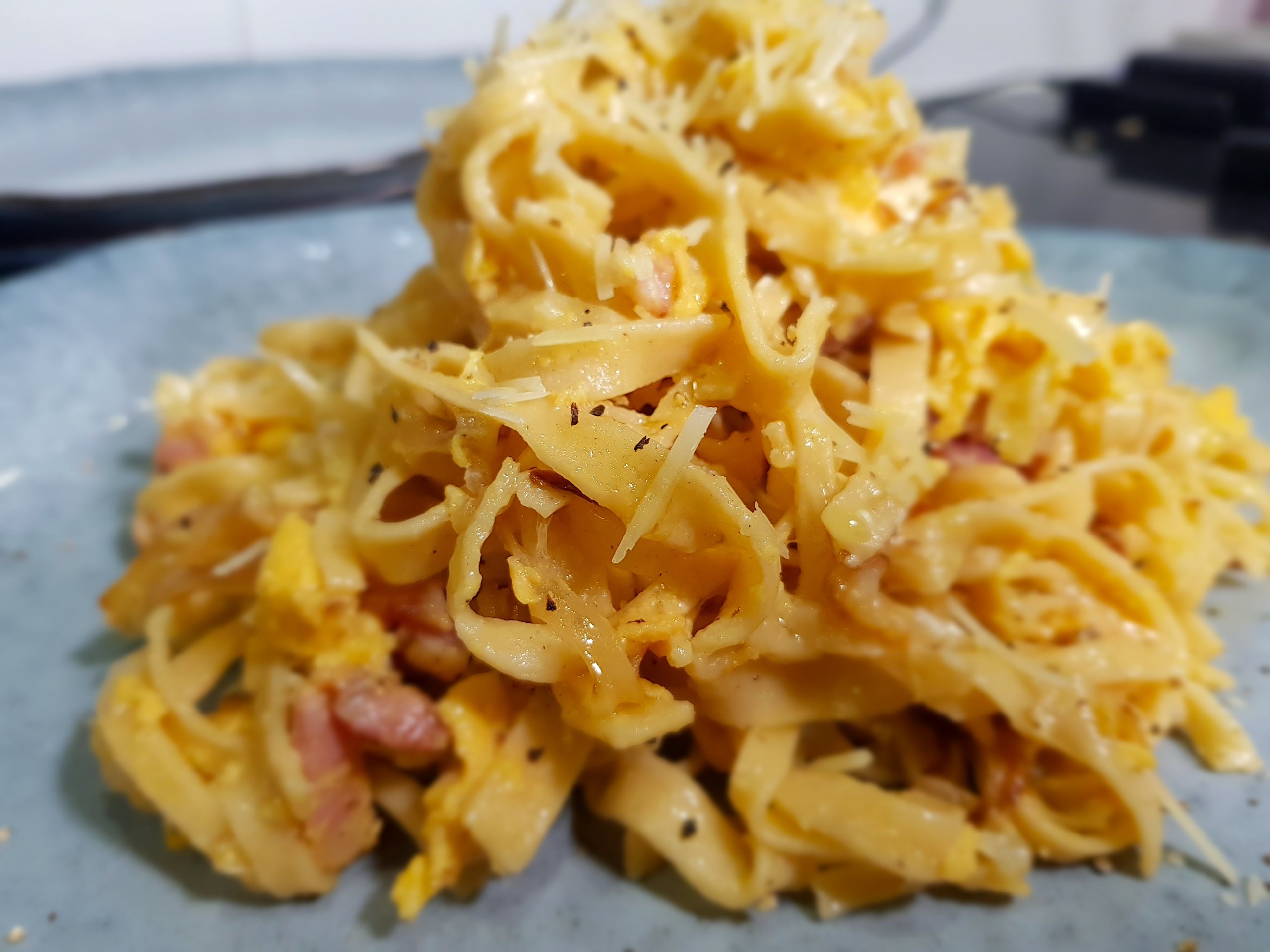 Step by Step Instructions
Step 1
Place flour and salt into a blender, turn on and add all the wet ingredients. Mix until it starts to clump together. Remove from the bowl and press together using your hands. Massage it into a smooth paste. Add more flour if too sticky.
Wrap in glad wrap and refrigerate for 20 mins.
Step 2 
 After 20mins, remove pasta from the fridge and roll with a rolling pin and as flour as you need into sheets of pasta thin enough to just about see-through. Alternatively, use a pasta machine.
Leave the pasta to dry for 5mins
Step 3
After drying, roll it up into a flat cylinder and cut it into thin ribbons. Loosen the ribbons and add a little more flour if they stick together. 
Step 4
Bring a pot of water to a boil and season with salt.
To make the sauce lightly brown onions in olive oil and salt. Add bacon and lightly brown while stirring for 3mins.
Add cream cheese and parmesan. Stir through.
Remove the pan from heat
Step 5
Place the pasta into boiling water and when the pasta comes to the top, give it another 1min and then drain off and straight into the pan with the bacon. Stir through over medium heat.
Add eggs to the pan and lower the heat to very low. Stir through until the eggs form a lightly thickened sauce. Remove from the heat. Season to taste, add lemon juice. 
Serve with parmesan, olive oil and black pepper.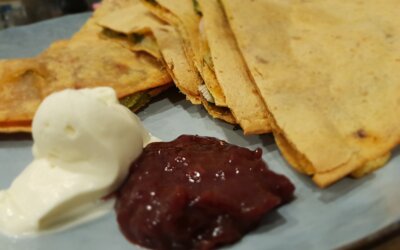 Servings 2 wrapsReady In: 15minsGood For: Main, sandwich, picnic, buffetIngredients 4 large tortilla wraps- any flavour 3 chicken thighs-boneless 1tsp Moroccan spice 1 clove garlic- finely chopped 2tsp olive oil 1/2 tsp smoked paprika 50g feta cheese 30g cooked or...