Ready In:
30mins                plus 30mins rest
Good For:
Lunch or Dinner
250g strong flour

15ml olive oil

25ml cold water

4g salt

2 eggs

4 x 130-150g pork steaks or medallions
40g flour
1 egg and 70ml milk- whisked together
70g dry breadcrumbs
seasoning
40ml olive oil

1 small onion- finely chopped

2 cloves garlic- finely chopped
1 zucchini- chopped finely
70g frozen petit pois (baby peas)- defrosted
1/2 head broccoli- chopped
50g spinach leaves
2tsp vegetable stock powder
150ml water
20g butter

30g freshly grated parmesan

30ml olive oil

freshly milled black pepper
plus vegetable oil for cooking pork- about 80ml.
lemon-to serve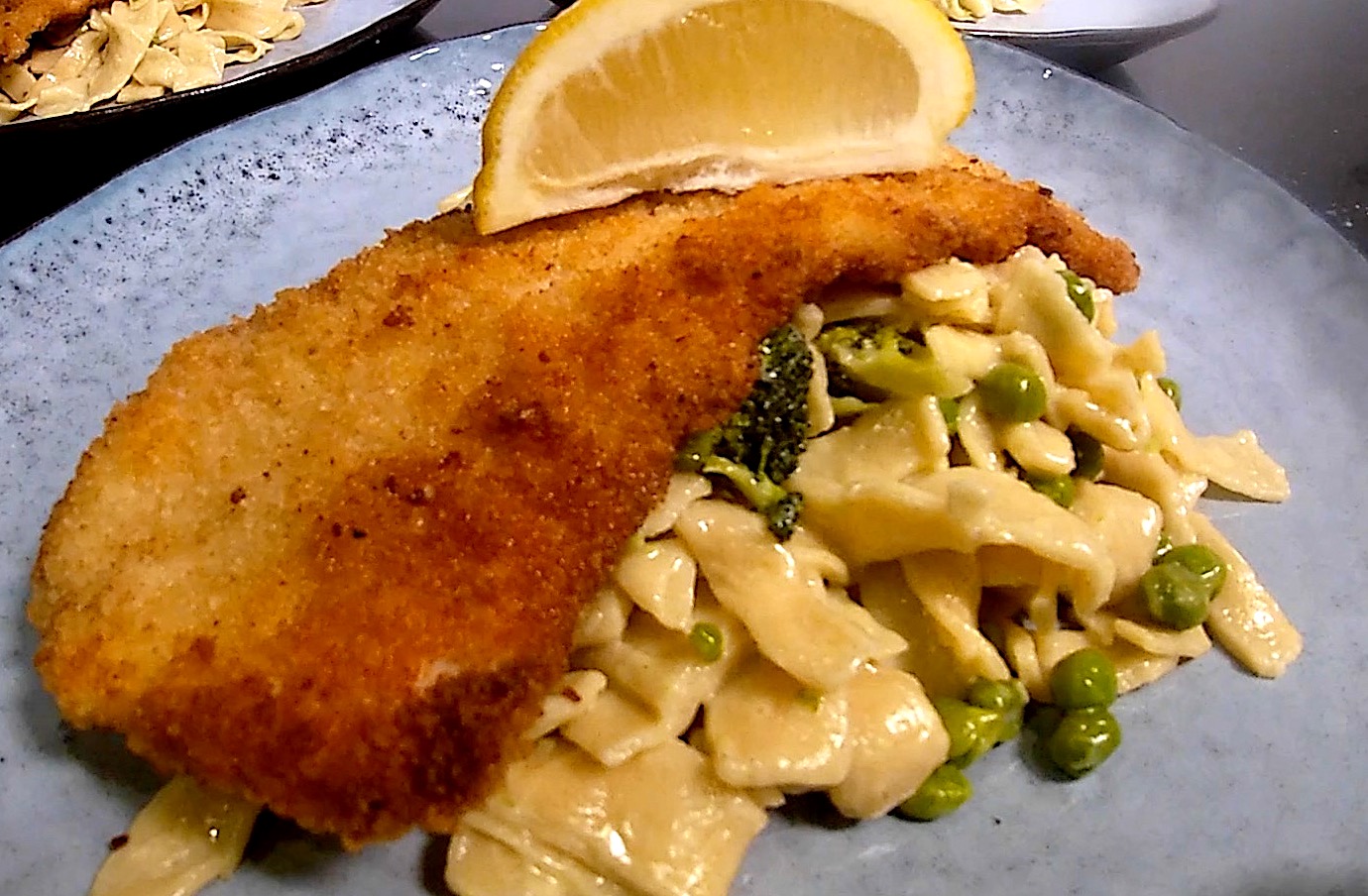 Step by Step Instructions
Step 1
To make the fresh pasta place flour and salt into a blender, turn on and add 2 eggs, water and oil while the machine is on. Mix until it starts to clump together. Remove from the bowl and press together using your hands. Wrap in glad wrap and refrigerate for 30 mins.
Step 2
Butterfly the pork by cutting diagonally halfway through the centre. Open up and hammer the meat until thinner and twice its size. Season with salt and pepper. Pass through flour, shake off the excess, then into beaten egg and milk, shake off excess, then into breadcrumbs. Reserve into fridge for later. 
 Step 3
Roll the pasta into sheets on number 2 thickness which is 1 away from the thinnest size. Leave the pasta to dry for 10mins and then cut into desired ribbons. Roll up the sheets and cut using a large kitchen knife.
Step 4
Place the chopped broccoli into boiling salted water for 1min and then drain. 
.
Step 5
Place olive oil into a frying pan and over high heat cook the onions and garlic for 3mins. Reduce heat to medium and add zucchini. Season and cook for 2mins. 
Add peas, vegetable stock powder, broccoli and water. Bring to a boil and simmer for 3-5mins until sauce has reduced by half.
.
Step 6
Remove the frying pan from heat and stir through spinach leaves, parmesan and butter.
The sauce is now ready. Place a pot of water to boil for the pasta and season it with salt.
.
  Step 7
Using a frying pan and vegetable oil over medium to high heat, fry the pork schnitzels for 4mins on each side. They want to be golden brown. Drain on a paper towel. 
Step 8 
Cook pasta in boiling salted water for 3mins. Stir once during cooking. Heat sauce, drain pasta and empty into the sauce.
Over a high heat cook the pasta and sauce together for 2-3mins. Season to taste. 
Step 9
Serve the pasta onto plates or a serving dish with the pork schnitzel over the top with lemon wedges.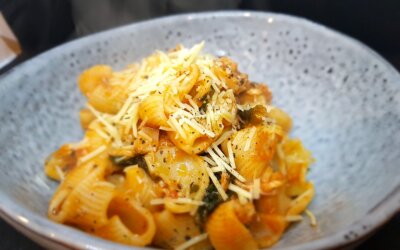 Serves 5Ready In:  45minsGood For: Lunch, dinner or pot luck Ingredients 500g dry pasta- any shape 1 x 400g tin tomatoes  50ml olive oil 1 onion-chopped 2 cloves garlic- peeled and sliced 60g bacon- can be pancetta, streaky, back or shoulder 2 sticks fresh thyme 1 tsp...
read more