Ready In:
1-hour              Proof= 3hrs
Good For:
Anytime after lunch
Recipe with sourdough starter

450g strong flour

3 cups fed starter dough

70g sugar

8g dry yeast

150ml milk- warm

1tsp salt

2 eggs- beaten

200g butter- soft

Recipe for 20 Buns without using sourdough

650g strong flour

8g dry yeast

70g sugar

150ml milk

1tsp salt

2 eggs- beaten

200g butter- soft

100g jam

350g sugar

300ml water

300ml cream

1/2 lemon- juice only

25g caster sugar

pinch salt

130g icing sugar- sieved

50ml boiling water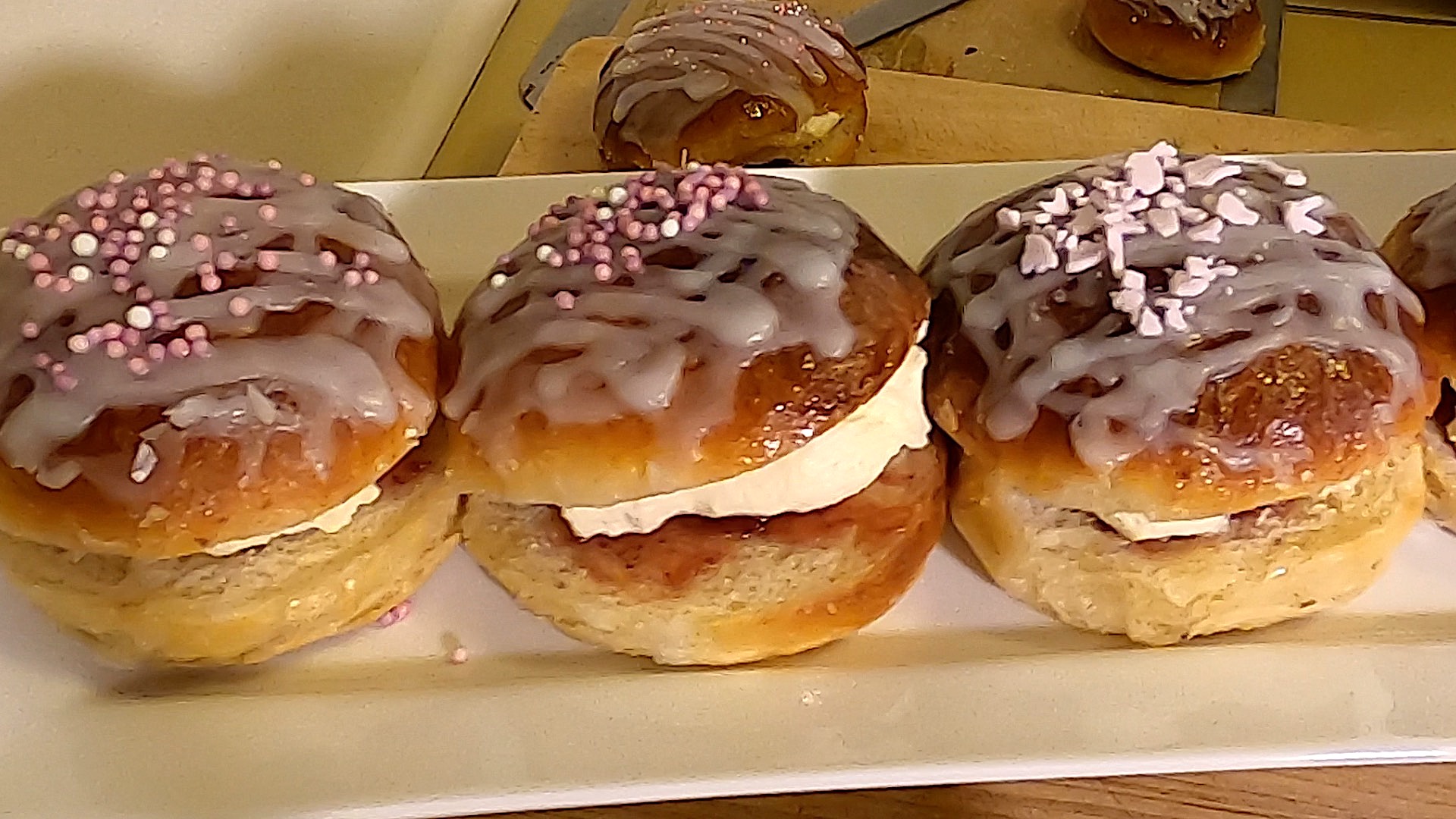 Step by Step Instructions
Step 1
Warm up the milk to a tepid temperature and add in the dried yeast. Leave to stand for ten mins.
In a large bowl, add in the flour, sourdough starter, yeast mixture, sugar, salt and eggs (or if using the other recipe the process is the same but you have more flour and no sourdough starter).
Step 2
Mix the ingredients together until they begin to clump together. Empty onto a clean sideboard and using a little flour, knead the dough for about ten mins. Kneading is pressing down on the dough and rolling to develop the gluten and stretching the gluten strands. 
Step 3
If the dough gets too sticky add a little more flour but don't add too much. The dough will begin to soften and should stick less. Once the dough holds together when your tear it (the window effect) and springs back when pressed it's ready. This should take about 10mins.
Step 4
Mix the butter through the dough.
Place dough into a large oiled bowl, cover with oiled glad wrap and leave to ferment in a warm place for an hour or until 1 ½ its size.
Step 5
After proofing, knock the air out of the dough and break it into 20 even-sized pieces. Once portioned, cover them with oiled glad wrap and rest for 5 mins.
Step 6
Using lightly floured hands and while pressing lightly onto each piece, rotate your hands to form a ball of dough. It's like half clenching a fist around the dough and waving goodbye to the table.
Step 7
Place each ball back under the oiled glad wrap and rest for 5 mins, then roll each into a bun-shaped torpedo. Use both hands for this and use a little flour if needed. Place spaced apart onto a greased and lined baking tray. Cover them with oiled glad wrap to do their final proof to 1 ½ times their size.
 Step 8
Once proved, bake them in a preheated oven at 210°C. Place a little oven-proof container of water on the bottom shelf of the oven to help form steam.
Bake them for between 16-19 mins or until they feel light, are golden and when you flick the base they sound hollow. Remove them from the oven onto a cooling rack. 
Step 9
To make the sugar syrup boil the water and sugar for up to 5mins or until you have a light syrup. Keep warm. 
Step 10
Allow the buns to cool for 2 mins before dipping them in the hot glaze. Dip both sides of each bun twice and place them back onto the cooling rack.
Step 11
Whip the cream with sugar and salt until lightly whipped. Add lemon juice and stir through.
Step 12
Once buns are cool and using a serrated knife cut along the side of each bun. Place a little jam into the centre and then pipe or spoon the cream into each. 
Final Step
Mix together the icing sugar and water to form an icing and then using a piping bag, pipe icing over each.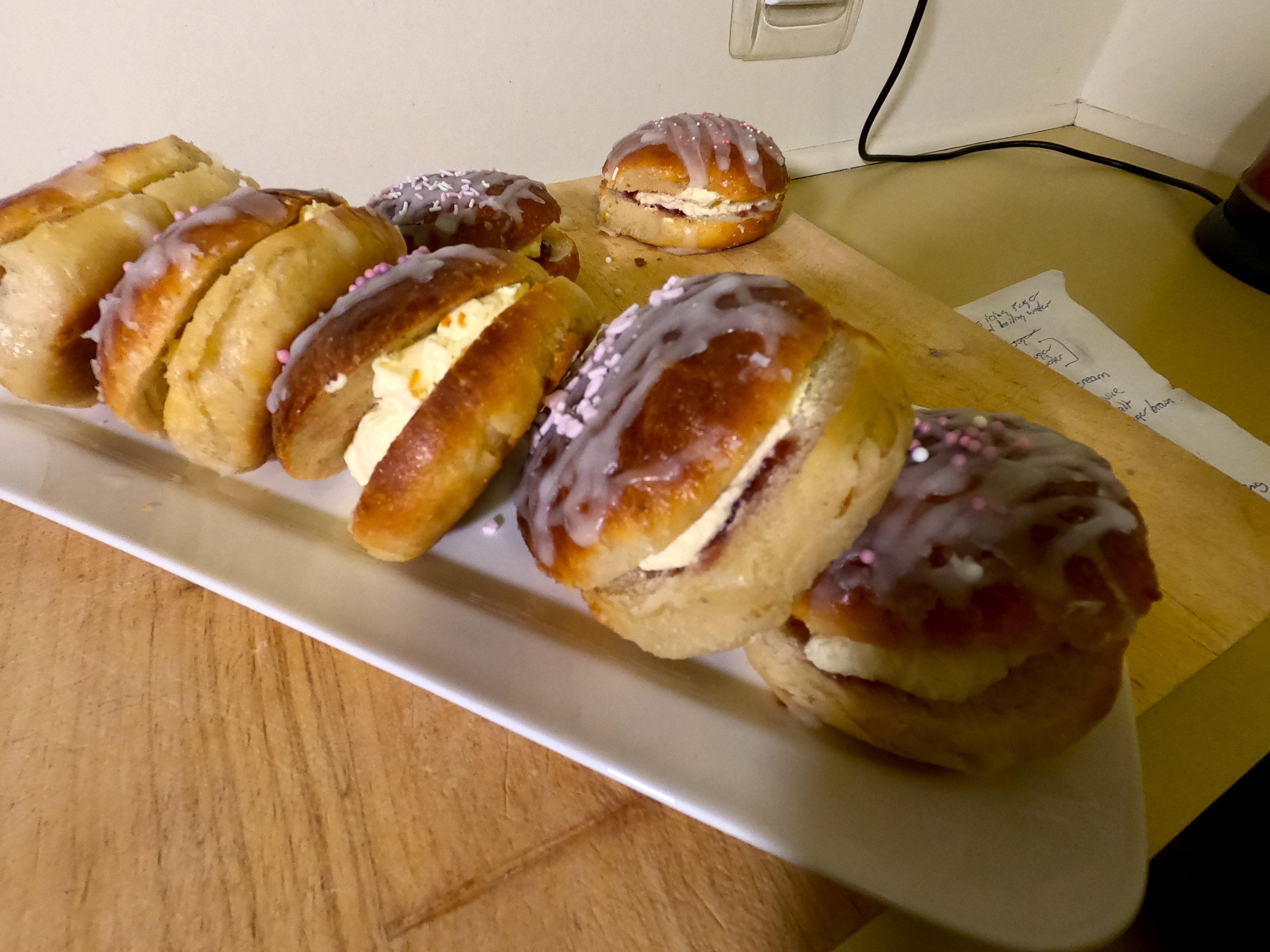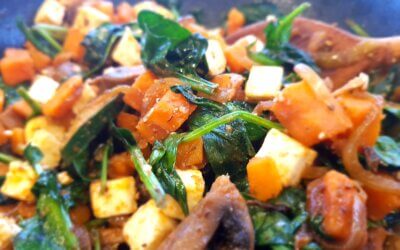 Servings 4Ready In: 50minsGood For: Main Dish, salad, wrap Ingredients 1 kumara (200g)- peeled 1 white onion- peeled 1 stick rosemary 25ml vegetable oil for roasting 100g button mushroom- cut into 1/4s 100g paneer- cut into 2cm cubes 2 cloves garlic-smashed w skin...