Ready In:
 60 mins plus           2 hr salting period
Good For:
Lunch or Dinner 
60 large dumpling wrappers

1/2 medium-sized cabbage

4tsp salt

450g pork mince

3 cloves garlic- chopped fine

1 chilli- chopped fine

1 egg yolk

1 1/2 tsp sesame oil

2 1/2  tsp soy sauce

2tsp vegetable oil

1/2 lemon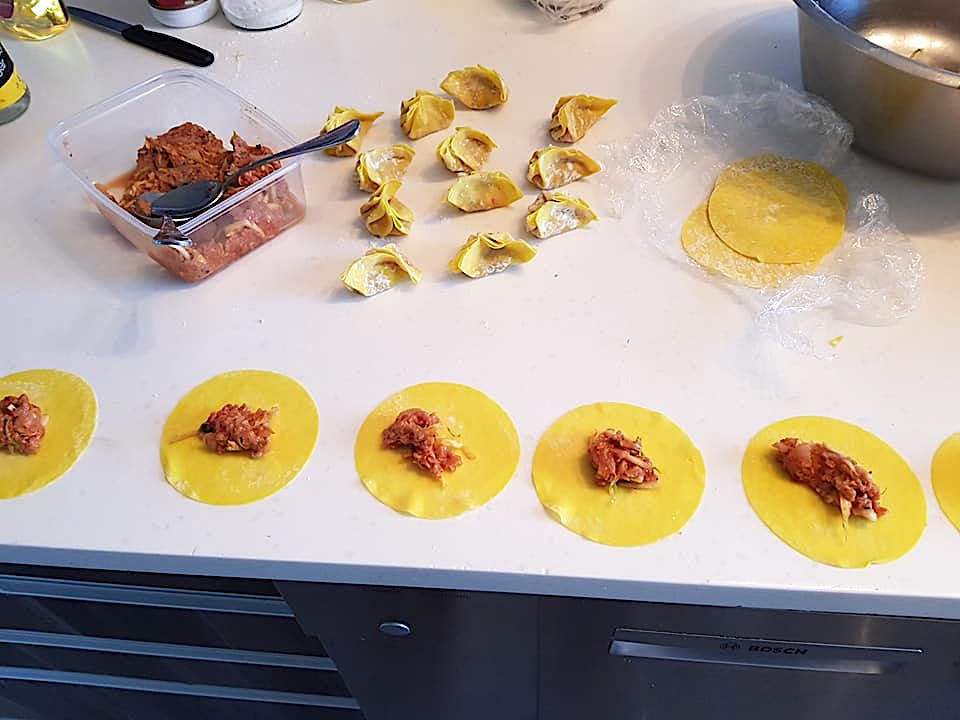 Step by Step Instructions
Step 1
Dumplings are a popular choice these days whether steamed, fried or cooked 'Gyoza' style.
Prepare the cabbage ahead of time. Cut into wedges, remove the core and shred into very fine strips. Give a good wash and drain.
Sprinkle salt through the washed cabbage and leave for 2 hours to soften. 
Step 2
While the cabbage is salting, let's make the meat ahead of time to help give it time to marinade.
Place mince into a bowl along with garlic, egg yolk, sesame oil, chilli and soy sauce. Mix all together, cover and chill in the fridge.
Step 3
Once the cabbage has salted for 2 hours. Fill a big pan with cold water and wash the cabbage really well.  I usually do this a second time.
Drain the cabbage and squeeze it dry with your hands. Mix together with the meat. 
Step 4
Lay 4 dumpling wrappers onto a clean surface, place 1 tsp of pork mince into the centre of each wrapper. Using a pastry brush and cold water, moisten the edges of each dumpling wrapper (lightly).
Hold the dumpling in your hand, pinch one end and apply the necessary folds to one side of the wrapper which causes the dumpling to enclose. One side gets folded, the other stays straight.
Loop the pastry over itself on one side to close the dumpling. My advice, watch the video.
 Step 5
Using a frying pan with a lid or frying pan and tin foil, place over a high flame add 1 tsp oil into the pan and layout dumplings, fold side up, leaving a little space in between (not much, 2mm). Don't wait for the oil to heat up before adding dumplings.
Lightly brown the bottom of each dumpling by cooking for 2mins and then pour in ¼  cup of water into the pan or 1/3 cover. Cover with lid or foil and over high heat, poach and steam the dumplings for 6-7 mins. The water should evaporate rapidly and should be completely dry towards the end of cooking to allow dumplings to fry a little more.
  Step 6
 The dumplings are cooked when they feel firm to touch and the dumpling pastry feels a little spongy. If they're not, just add a little more water and continue cooking. The dumpling should be golden and crispy on the base.
I always squeeze a little fresh lemon over the dumplings when cooked in this way. 
Wipe the pan with a dry paper towel and add a little more oil between batches.
No Results Found
The page you requested could not be found. Try refining your search, or use the navigation above to locate the post.