Good For:
Lunch, Dinner or Party Food
300g dried macaroni pasta

75g butter
95g flour
1/2 onion-finely chopped
2 cloves garlic-minced
720ml warm milk
140g grated cheese
few drops tabasco
few drops Worcestershire sauce
1 tsp Dijon mustard
1/2 tsp salt
pepper to taste
3eggs mixed with 150ml milk
150g flour for breading
150g dried breadcrumbs
Canola oil for frying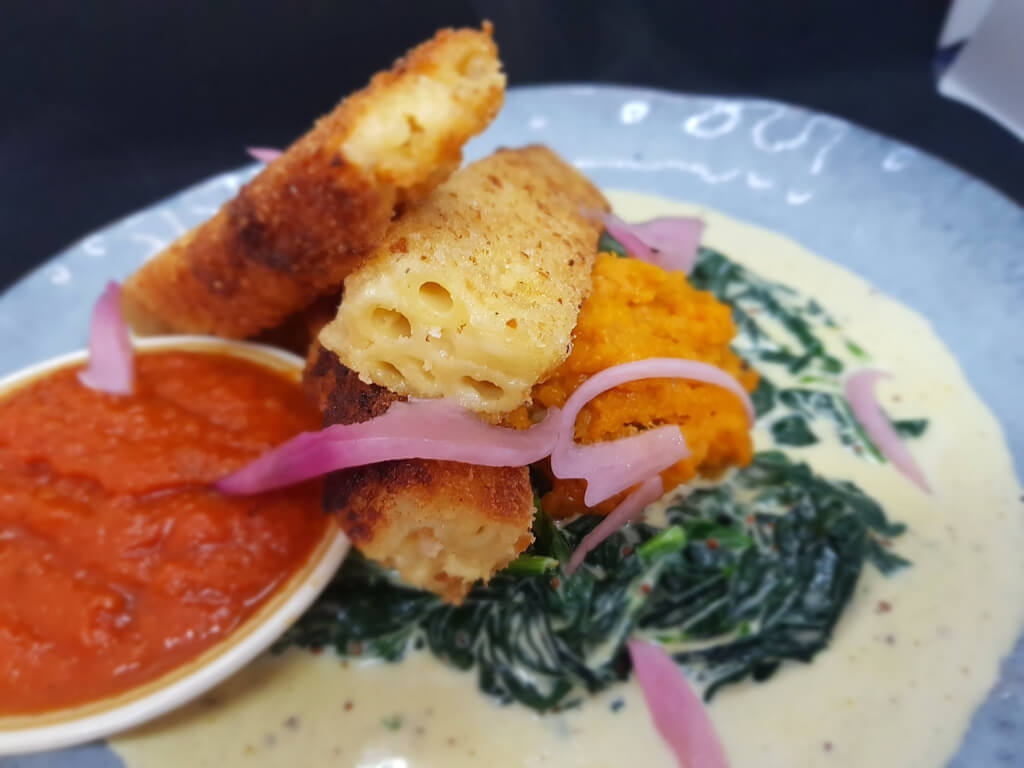 Step by Step Instructions
Step 1
In a medium pan, melt the butter and fry the onions on medium heat for 2mins. Add the flour and cook for 3mins on medium heat before adding 1 cup of warm milk at a time to the cooked butter, onion and flour until you have a thick sauce. Season to taste. Cook for 30mins until you have a thick sauce, like lightly whipped cream thickness.  
Step 2
Cook the macaroni in boiling salted water until al dente. Drain well and add to the sauce.   
Step 3
Add cheese, mustard, tabasco and Worcestershire sauce to the pasta and sauce. Stir through and season to taste. 
Spread sauce onto a lined tray to cool and cover it with glad wrap. Spread as thick as you want your macaroni bites to be. Mine are usually about 2cm in thickness. Chill for at least 2 hours before shaping. Fast chill in the freezer for an hour. 
Step 4
Check to see if the macaroni is firm and set, otherwise chill for longer but it should be ready after 2 hours.
Dip a sharp knife into hot water to cut the macaroni. It will stick otherwise. Dip and wipe the knife between cuts.
Portion to preferred size, mine are 6cm long, 2cm wide. Cut the macaroni bites and return to fridge for 10mins. 
Step 5
Pass the bites through flour, shake off excess, then beaten eggs and milk, and then breadcrumbs.
Fill a pot with vegetable oil and place a piece of bread or a thermometer into the oil. Fry at 180°C or when the bread is golden and crispy.
Fry for 2mins or until golden and crispy.
Step 6
Ideal to serve with tomato chutney, relish or an aioli. 
In the picture I've served mine with creamed spinach and nutmeg, and a tomato salsa.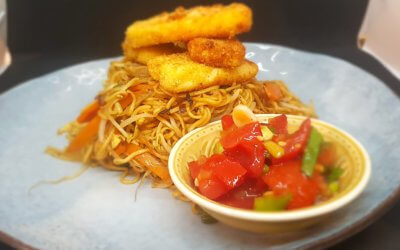 Servings 4Ready In: 30mins Good For: Lunch, Dinner or Party FoodIngredients 200g halloumi cheese 2tsp canola oil 1 1/2 tsp curry powder 1 egg 40ml milk 80g dried breadcrumbs 50g seasoned flour 3 tomatoes 2tblsp olive oil 1 spring onion-thinly sliced 3tblsp tomato...
read more