Good For:
Side or ideal for BBQ
3 lrg floury potatoes (not waxy variety)
2 cloves garlic- crushed
1/2 onion-chopped
2tsp tomato puree
1/2 tsp Moroccan spice
1/2 tsp paprika
35g butter
20ml olive oil
1/2 tsp salt
1/4 tsp black pepper-milled
1tsp chopped green herbs (parsley, chives, coriander)-optional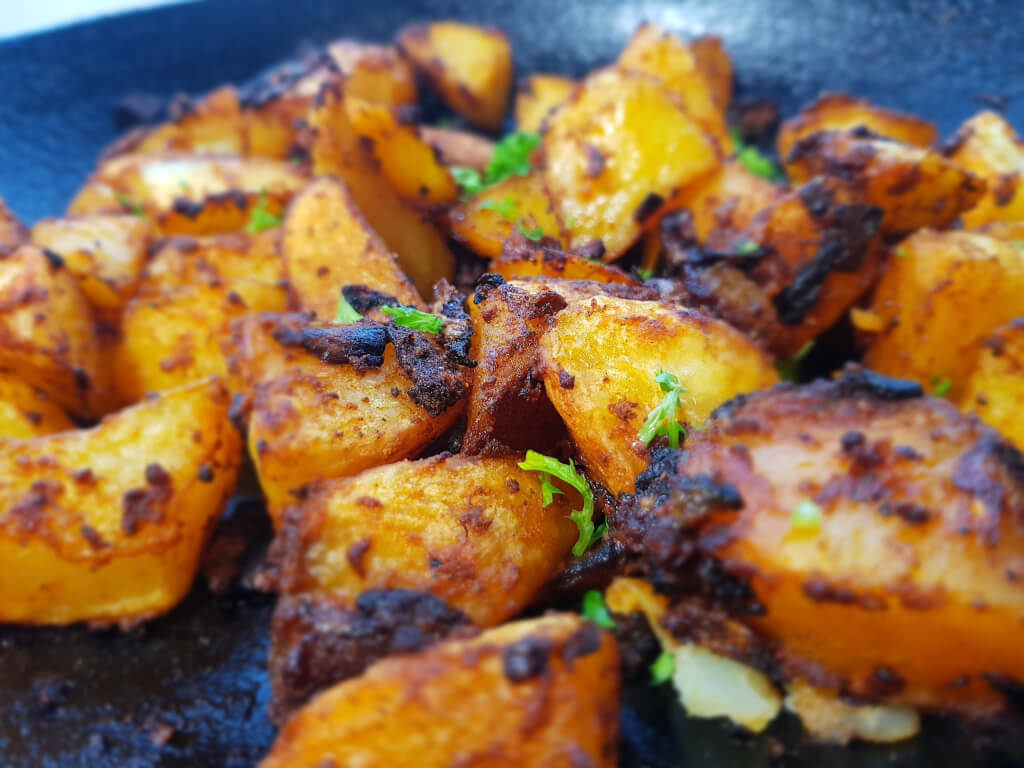 Step by Step Instructions
Step 1
Pre-heat an oven to 180°C.
Peel and wash the potatoes. Cut them into irregular shapes approximately the same size before re-washing them. Drain well.
Place into a pot, cover with water, season with salt and then bring to a boil. Once boiled, drain and keep warm. 
Step 2
In a frying pan over a high heat, melt the butter and fry the onion and garlic until golden brown. Remove from the heat.
Step 3
Season the onions and then add paprika, Moroccan spice and tomato puree, stir through and then add the potatoes. Stir and season. Drizzle oil over.
Step 4
Place pan into oven or transfer contents onto a baking tray and place into the oven. Don't stir the potatoes during baking.
After 35mins they're ready. They should be heavily golden and have slightly charred edges. These will be the most flavoursome parts to this dish.
.
Step 5
Scatter fresh herbs over and you've got probably the best potato dish, in my humble opinion.
.
Step 6
In over 20 years of cooking this is one dish I remember very well whenI first tried  with eggs Benedict. I also use left over baked potatoes for this one which gives it an ever greater taste.
.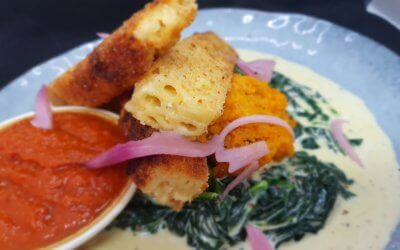 Makes 25 piecesReady In: 30minsGood For: Lunch, Dinner or Party FoodIngredients 300g dried macaroni pasta 75g butter 95g flour 1/2 onion-finely chopped 2 cloves garlic-minced 720ml warm milk 140g grated cheese few drops tabasco few drops Worcestershire sauce 1 tsp...
read more