Good For:
Lunch or Dinner or Vegetarian Dish
200g strong flour- sifted

1 egg-beaten

30ml canola oil

4g salt

70-90ml cold water

PLUS oil and water when stretching dough

1 lrg kumara- 1cm dice

1 onion- small dice
1 zucchini-sliced 1/2 cm
200g button mushroom-cut into 1/4s
160g paneer-1cm dice
35ml olive oil
100g spinach-washed and drained
1tsp paprika
1tsp celery seeds
1tsp tomato puree
20g butter
20g melted butter (for glazing top before baking)
2g jalapeno salt and chilli flakes (optional)
10g parmesan
15g breadcrumbs
10ml olive oil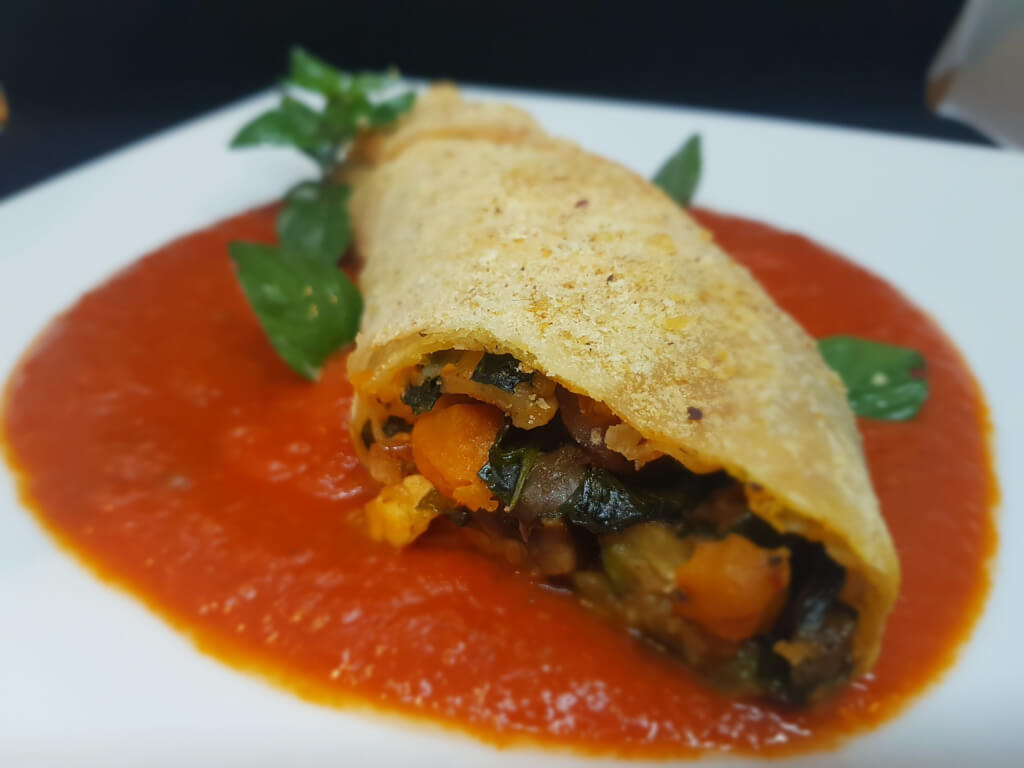 Step by Step Instructions
Step 1
To make the strudel pastry, place strong flour into a mixing bowl and make a well into the centre. Pour beaten egg, canola oil, salt and cold water into the centre and mix together very well. Press the dough and roll for 5mins until smooth and stretchy. Wrap in glad wrap and rest on the side for at least 30mins before use. 
Step 2
 Add kumara to a pot, cover with cold water. Season with salt, bring to a boil and cook for 3-4mins until tender.  Drain and reserve for later.
Step 3
Place diced paneer into hot water (from the tap) and leave for 10mins to soften. After 10mins drain well. 
Step 4
Add 35ml olive oil to a frying pan and lightly brown onions for 3mins. Season with salt and pepper and then add zucchini. Cook for 1min.
After 1min, add mushrooms and cook for 3mins. 
Step 5
Add garlic, celery salt, paprika and tomato paste to mushrooms. Stir thoroughly and remove from heat. Add 20g butter to pan, sprinkle spinach over cover with a lid for 1min to help start to soften the spinach.
Stir through after 1min and then sprinkle warm kumara and soaked paneer over the spinach. Stir thoroughly and season to taste. 
.
Step 6
Using a clean side board or bench, scatter approximately 30ml canola oil and 20ml water over the bench. This will form a slippery surface to help stretch the strudel paste.
Place the pastry onto the side board and oil your hands. Gently push and stretch the pastry adding more oil or water if the paste begins to stick.
Stretch until the paste is see through all over. Trim the edges with a knife. 
This quantity of paste will stretch to 90cm by 50cm approximately.
Step 7
Place the filling along the length of the pastry. Season the pastry on the inside with some form of spice or seasoning. I used jalapeno salt and chilli flakes. 
Roll the paste tightly and seal the edges. Trimming as you go any excess pastry roll the strudel into a long cylinder. 
Place onto a lined baking tray, brush with melted butter and sprinkle with breadcrumbs and parmesan. Drip a little olive oil over strudel. Allow to rest as oven heats up. Set oven to 175°C.  
Step 8
Bake for 45mins at 175°C or until golden brown all over. 
Remove from the oven and leave to rest for 5mins before serving. 
This dish is perfect served with tomato sauce flavoured with herbs like basil, oregano, tarragon or marjoram.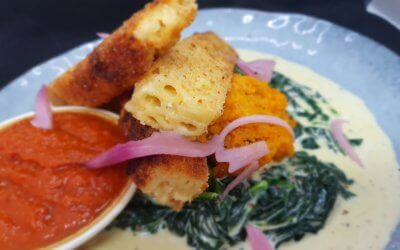 Makes 25 piecesReady In: 30minsGood For: Lunch, Dinner or Party FoodIngredients 300g dried macaroni pasta 75g butter 95g flour 1/2 onion-finely chopped 2 cloves garlic-minced 720ml warm milk 140g grated cheese few drops tabasco few drops Worcestershire sauce 1 tsp...
read more