Good For:
Lunch or Dinner. Gluten free option
200g kumara- peeled, cut into 3-4cm pieces

120g potato- cut into large chunks

1 carrot- peeled and thickly sliced

100g spinach leaves- picked, washed and drained

400ml coconut milk

2fresh green chilli -thinly sliced with seeds (optional if you like a medium-hot curry)

1 head broccoli- cut into thick pieces with little stalk left on the stem

1/2 bunch fresh coriander- picked, washed and drained

3 cloves garlic- thinly sliced

3 sticks spring onion

2 tsp Thai green curry paste that includes lemongrass, chilli, garlic, galangal, shallots, soybean, coriander, nutmeg. 

1/2 tsp fish sauce (optional if not vegetarian)

1tsp mirin

1tsp veg stock powder

1/2 tsp fresh ginger-finely grated

20ml veg oil

1 lemon- juice only

3tsp reduced soy sauce

1/2 tsp dried chilli

salt and pepper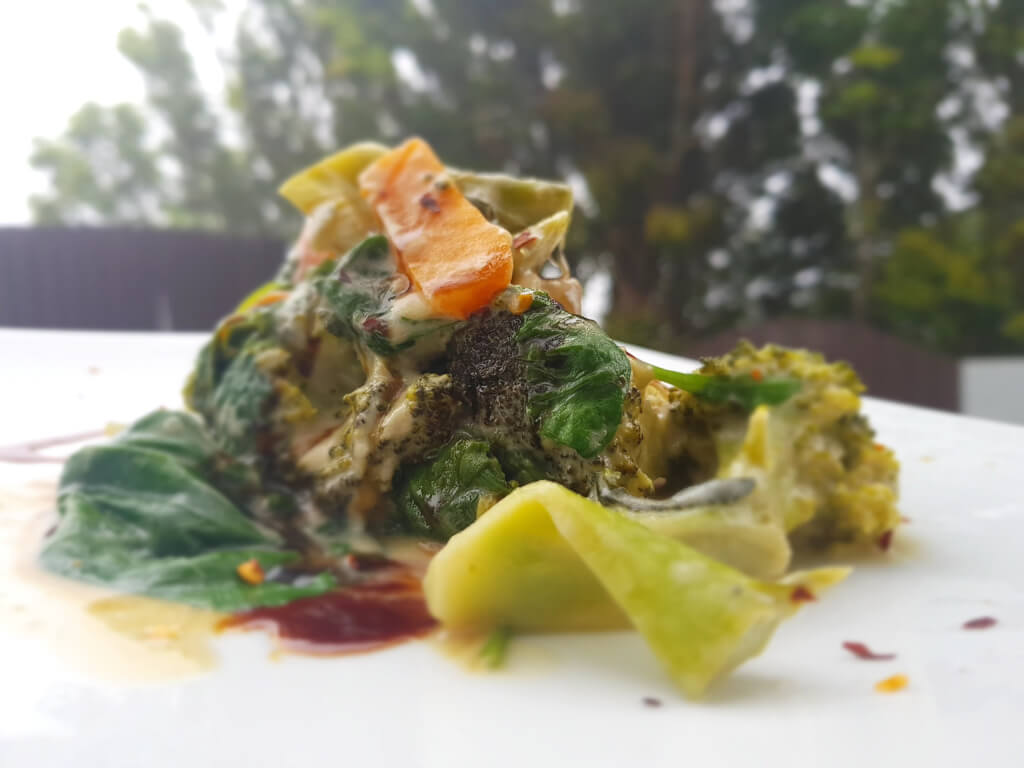 Step by Step Instructions
Step 1
Blanch the kumara, potatoes and carrots in boiling salted water for 5mins, drain in a colander to cool.
Step 2
Slice the spring onions into large pieces and add them to a large bowl along with the blanched vegetables and garlic.
Step 3
Add fresh chilli (if using), ginger, veg stock powder, curry paste, fish sauce (if using)and broccoli to the vegetables. Season and stir through.
Step 4
Heat veg oil in a large pot or pan, once hot add all the vegetables. Fry for about 4mins. Season.
.
Step 5
Add coconut milk to the pan,  bring to a simmer, season and then gently cook for 10-15mins over medium heat with a lid.
.
Step 6
Check to see if vegetables are tender.
Once they are cooked, remove the pan from the heat.
Remove the lid and leave it to stand for 2mins.
.
Step 7
Add the spinach and coriander leaves to the pot, scatter them all over, season and cover with a lid, but off from the heat for 2mins.
The heat in the pot will wilt the leaves. After 2mins, remove the lid and stir through.
Step 8
Season dish with lemon juice, soy sauce and dried chilli.
Perfect with rice, roti, salad etc.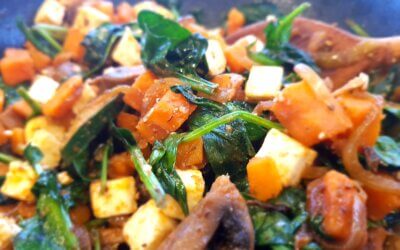 Servings 4Ready In: 50minsGood For: Main Dish, salad, wrap Ingredients 1 kumara (200g)- peeled 1 white onion- peeled 1 stick rosemary 25ml vegetable oil for roasting 100g button mushroom- cut into 1/4s 100g paneer- cut into 2cm cubes 2 cloves garlic-smashed w skin...
read more