Good For:
Lunch, as a salad, snack or dinner
40ml vegetable oil

1 clove garlic chopped
1/2 chilli- chopped
10g fresh ginger
50g beansprouts
3 eggs-beaten
1/2 tsp + 1tsp soy sauce
1 carrot- sliced
1/2 onion-sliced
1/2 red capsicum-sliced
1/2 yellow capsicum-sliced
40g cabbage-sliced
2tsp curry powder
1/2 tsp turmeric
200g dried wide egg noodles-rehydrate in hot water for 30mins, drain well
3tblsp hoisin sauce
fresh chilli, chive and spring onion to garnish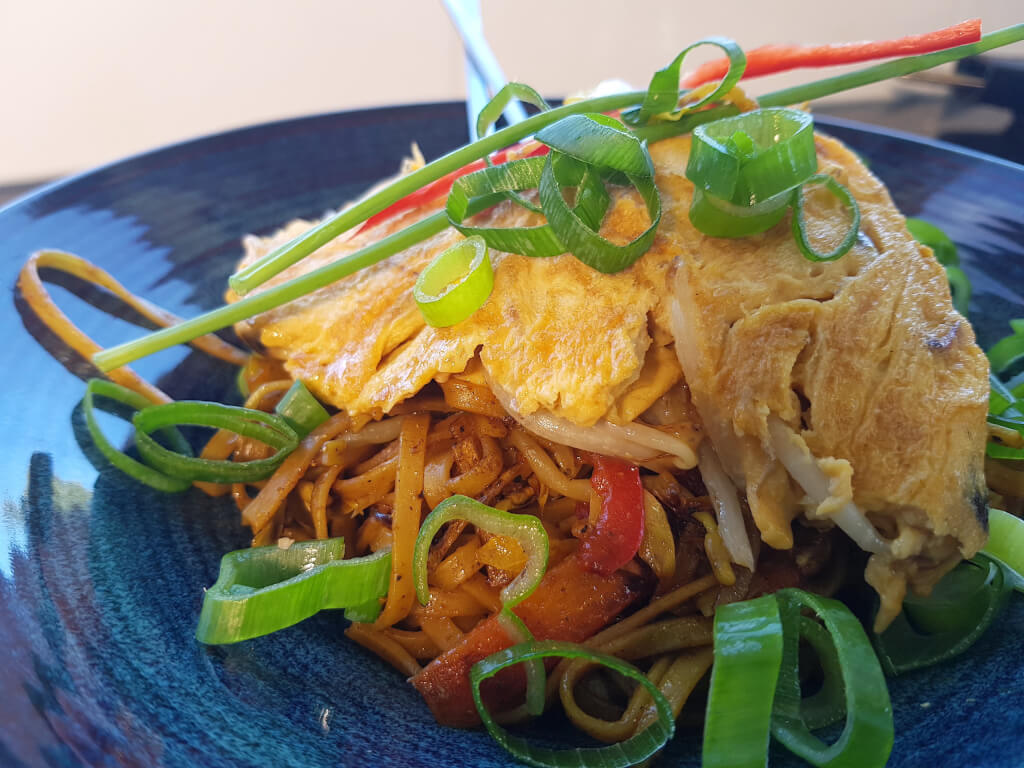 Step by Step Instructions
Step 1
The most important thing to do when stir-frying is to have everything ready and prepared.
Step 2
Heat a large frying pan or wok on medium heat and fry off the garlic and ginger in a little oil (1tsp) for 30secs.
Add beansprouts and stir-fry for 30 secs.  
Step 3
Season the egg with 1/2tsp soy, stir through and add this to the wok along with the bean sprouts. 
Using a wooden spoon or chopsticks, move the egg to all areas of the pan, fold over a little and gently cook for up to a minute. Remove from the pan or wok onto a plate for later.
Step 4
Wipe out the frying pan or wok if required and heat the pan on high heat for 1min. Add half the rest of the oil.
Add carrots and onions to the pan and cook for 1min.
Add the rest of the vegetables and chilli, season with salt and fry for 1min on medium heat.
Add a lid or cover with tin foil and steam the vegetables for 1min. 
.
Step 5
Add curry powder to the vegetables and stir through.
Increase the heat to high and add the rest of the oil.
.
Step 6
Now it's time to add the noodles. Ensure they're well-drained.
Add them to the pan along with turmeric. 
Stir-fry continuously using chopsticks or a wooden spoon until the noodles are hot or for approximately 3mins.
Step 7
Taste the dish to see how seasoned it is before adding hoisin and soy. Add hoisin and soy according to taste. 
Step 8
Add more fresh chilli if you like this hot. 
Place Egg Foo Young over the noodles. 
Garnish with fresh chilli, sliced chives and spring onion.
Wow, this dish just packs flavour.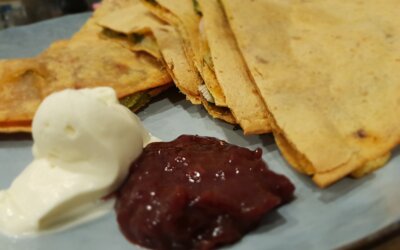 Servings 2 wrapsReady In: 15minsGood For: Main, sandwich, picnic, buffetIngredients 4 large tortilla wraps- any flavour 3 chicken thighs-boneless 1tsp Moroccan spice 1 clove garlic- finely chopped 2tsp olive oil 1/2 tsp smoked paprika 50g feta cheese 30g cooked or...
read more