160g egg white

320g caster sugar- meringue

pinch salt

1 tsp cornflour

1 tsp white vinegar

60g cashew nuts cooked with 1 tsp olive oil till golden brown- chopped

250ml double cream

60g sugar-soured cream

50g sour cream

1tsp vanilla essence

200g frozen berries-y variety an

120g sugar- berry compote

3tsp lemon juice

vanilla- optional

1tsp cornflour
100-150g lemon curd (see done in mins section for recipe)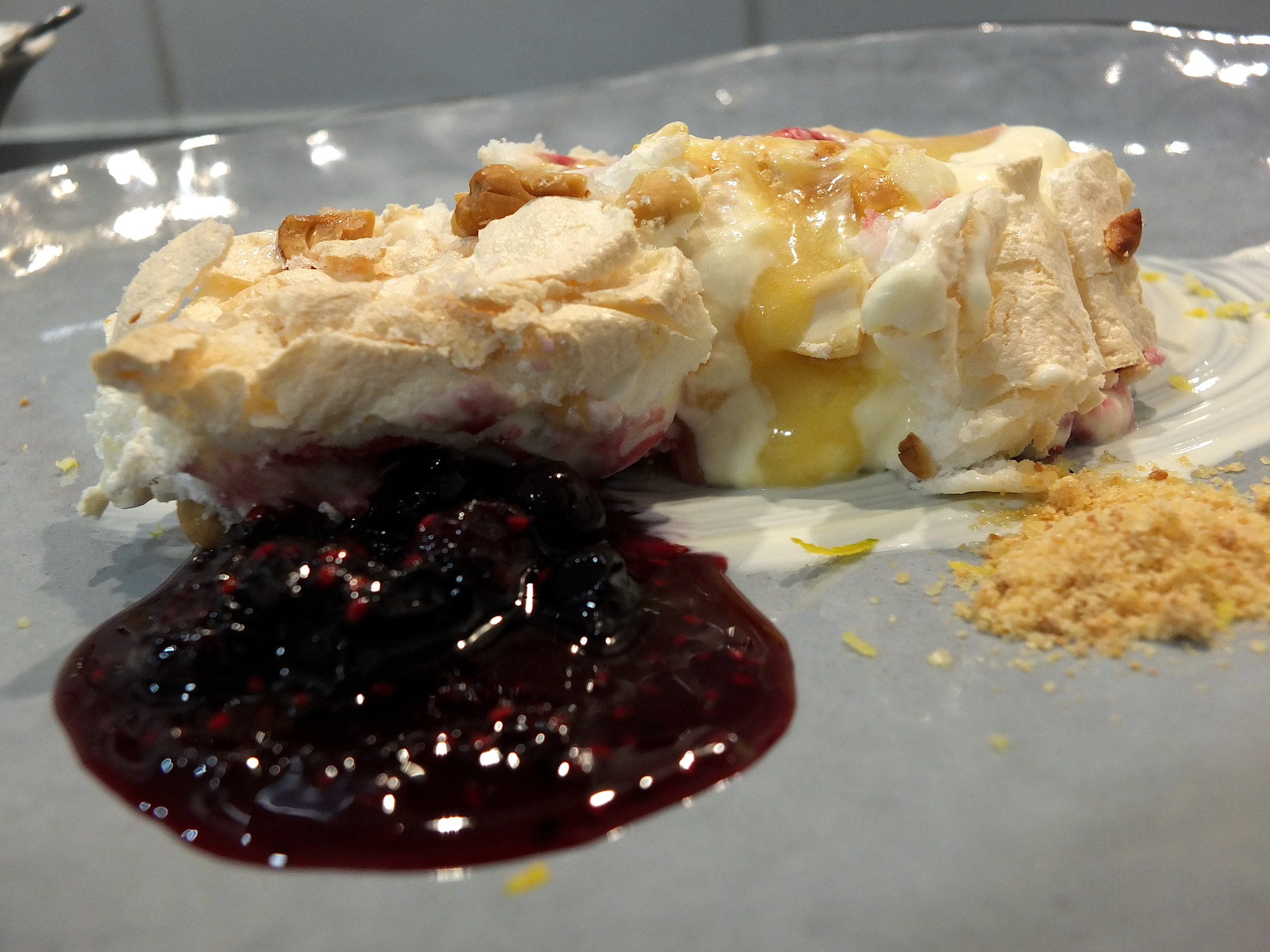 Step by Step Instructions
Step 1
Set oven temperature to 180°C.
Whisk egg whites, salt and a third of the sugar to soft peaks. Add 2nd third of the sugar and whisk to firm peaks. Fold through the last third of sugar along with vinegar and cornflour. Mix to a smooth consistency.
Step 2
Spread mixture evenly onto a greased and lined tray measuring approximately 40cm by 50cm. You can always make two smaller roulades if you don't have a large tray. 
Step 3
Scatter the chopped nuts over the top of the meringue and then bake for 6-7 minutes at 180°C until lightly golden and risen. Lower the temperature to 150°C and cook for 6-8 more minutes. The meringue should be golden, crisp on the top but soft in the centre.
Step 4
Once cooked, remove it onto a cooling rack to chill. The meringue doesn't want to be too firm but rather crunchy on the outside and soft in the middle, so you can roll it.
Leave to cool on a wire rack. 
.
Step 5
To make the soured cream, whisk cream, vanilla and sugar to soft peaks. Add sour cream and then fold through together. 
Reserve in the fridge until ready to use.
.
Step 6
To make the compote, bring berries, sugar and lemon juice to a boil. Dilute the cornflour with 2 tsp water, add to compote and simmer till thickened. Add vanilla and place into a bowl then fridge to cool completely. 
.
Step 7
Shaping Roulade Roll
Place a piece of greaseproof paper (as large as the tray used to bake the meringue) onto a preparation area. Scatter 2 tsp caster sugar over the paper.
Step 8
Cut around the outside of the meringue to ensure it's not stuck to the tray. Quickly and with a controlled flip, turn the meringue topside down onto the greaseproof paper. Remove greaseproof paper from the meringue.
Spread soured cream over the meringue ensuring to leave a  border at the top of the meringue otherwise the cream will ooze out when rolling. 
Step 9
Spoon berry compote and lemon curd over the cream. Don't smoother it, just do dollops or spoonfuls. 
Gather the meringue at one end and gently roll up into a cylinder, pulling tightly as you do so using the greaseproof paper as leverage.
Step 10
Refrigerate for at least ten minutes before serving.
The dessert will hold overnight with no trouble at all and no ill effects to the dessert. Great when you have a dinner party or guests coming. 
Cut using a knife dipped in hot water. Do this for every portion. Dip in hot water, wipe dry and cut.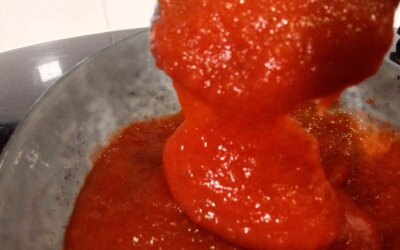 Makes  2 cups (500ml)Ready In: 10 minsGood For: Sweets sauce, desserts & cakes Ingredients 400g frozen or fresh strawberries 220g caster sugar 1 lemon-juice only 1/4 tsp vanilla essence 6g agar-agar Step by Step InstructionsStep 1 Fluid gels are frequently used by...
read more