Good For:
Lunch or Dinner
2 potatoes- cut into 1cm slices

2 broccoli- cut into large slices with stem

2 onions- thickly sliced

1tsp salt

1/2tsp turmeric

1tsp fennel seeds

2tsp curry powder

50g. butter

150ml marinara sauce- tomato sauce

1tsp turmeric

2tsp ground almonds

2tsp desiccated coconut

70ml cream

50ml water

1/2 tsp milled pepper

1 tsp dried chilli powder or flakes. Now, this makes the curry quite hot. Add 1/2 tsp for medium, 1/4 tsp for mild.

1tsp fresh coriander-chopped.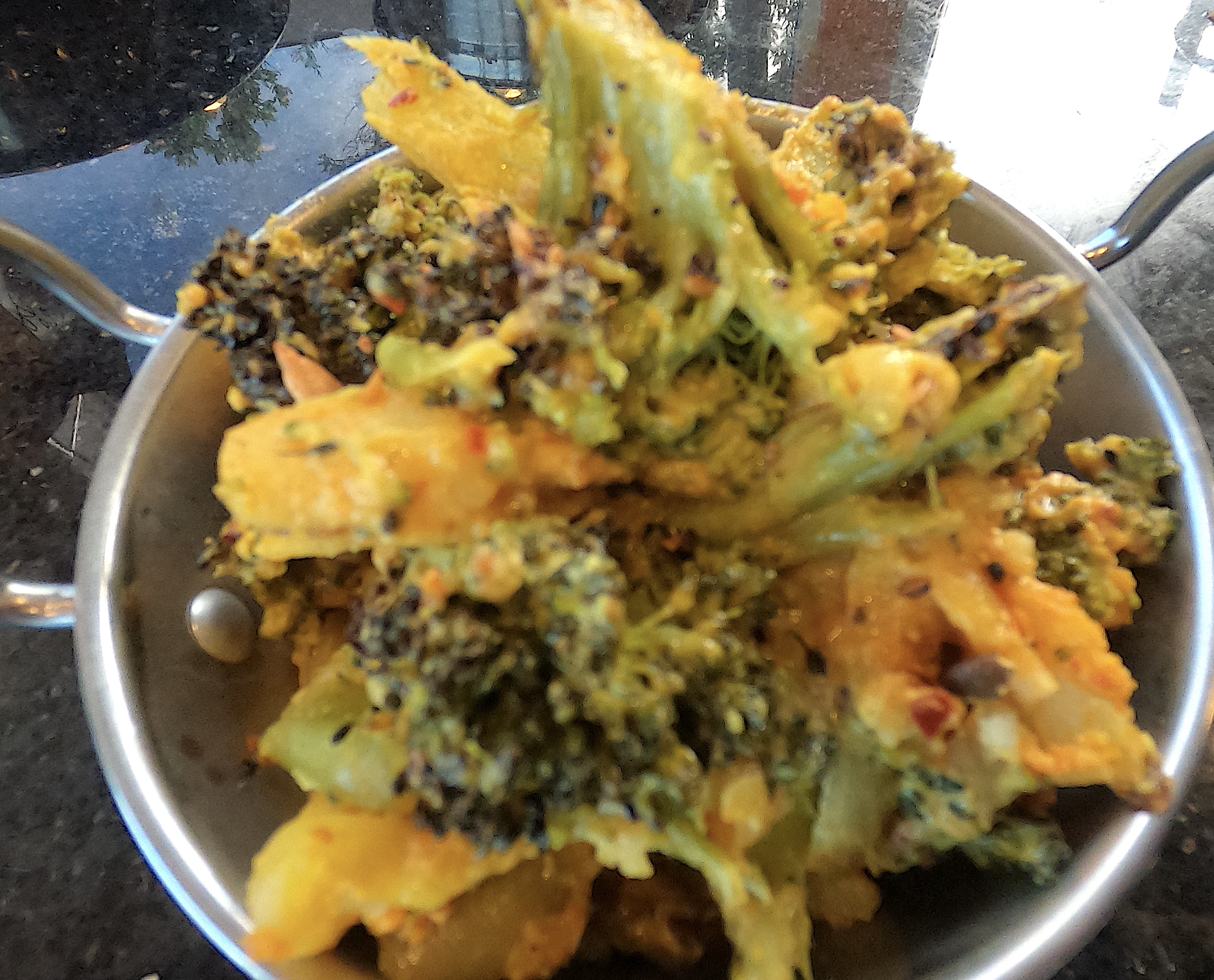 Step by Step Instructions
Step 1
Blanch the ?  and ? in boiling ? for 1 min. Drain and refresh in cold water
Preheat the oven to 190 degrees 
Step 2
 Line a roasting tray with greaseproof paper. Scatter the ? ? ? over the tray.
Season the vegetables with salt, turmeric, fennel & curry powder.
Break pieces of butter and scatter them over the vegetables. 
Step 3
Place into the oven for 30 minutes or until golden brown. 
The vegetables are delicious as well when eaten without the sauce. 
Step 4
Making the sauce is very easy. The most important thing is to have a tomato sauce base.
Either make this or purchase ready-made
Step 5
In a large frying pan or pot, add marinara sauce, turmeric, almonds, coconut, cream, water, milled pepper and dried chilli.
Bring to a simmer and cook over a medium heat for 5-10mins. Season to taste. 
.
Step 7
 Add the vegetables to the sauce and gently warm through together stirring carefully.
Add more cream if the sauce is too thick but the sauce should be thick and just coat the vegetables.
Step 8
Serve garnished with fresh coriander. 
I enjoy eating roti bread with this dish. 
Check out my recipe for sourdough based roti bread.
Link to the Video Demonstration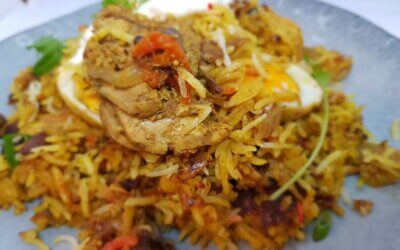 Servings 8Ready In: 1 hr 15min   Good For: Lunch, dinner, celebrationIngredients 1.5 x recipe chicken curry (from our recipes) 20g butter-for greasing tray 600g basmati rice (I use a premium brand called Kashish) 225ml warm milk 60g dried fried onions or shallots 100g...
read more