Good For:
Lunch or Dinner
650g chicken thigh (on the bone)

1/2 tsp garlic salt
1 tsp paprika
pinch mixed spice
pinch dried chilli
300ml buttermilk
150g corn flour
Vegetable oil for frying
1 onion-sliced
1 clove garlic-sliced
pinch dried chilli
400g frozen sweetcorn
90g creme fraiche
350ml water
3 fresh tomatoes
3tblsp tomato relish (home-made or shop bought)
2tblsp olive oil for salsa
1 spring onion-thinly sliced
200g baby spinach-sliced
1 lemon-juice only
30ml olive oil (for salad)
Salt and pepper to taste
Step by Step Instructions
Step 1
Using a sharp knife, remove the bones from the chicken and cut the ends or butterfly them to help ensure the chicken is the same thickness all over.
Rub chicken thighs with paprika, mixed spice and dried chilli.  Place into the buttermilk, cover with glad wrap and refrigerate overnight. 
Step 2
To make the sweetcorn puree, heat a pot over a medium heat. Add olive oil and onions, garlic. Cook for 2-3mins or until lightly golden. Add sweetcorn and dried chilli, stir through for 2mins.
Add enough water to just cover the sweetcorn, season with salt and pepper. Bring to a boil and cook for 5mins.
The water should evaporate during cooking by a third. Pour contents into a blender and mix until even consistency. Add creme fraiche and blend again. Season to taste. 
Step 3
The salad is best dressed when you require it, so leave this to the last minute. Dress the chopped spinach with olive oil, lemon juice and seasoning.
Step 4
The tomato salsa needs 10 or so mins in the fridge to develop. Mix together diced tomatoes, tomato relish, spring onions, olive oil and a little seasoning. Place into the fridge for a minimum of 10mins. The salsa will create juice while resting in the fridge which is what you want to happen.
Step 5
Remove the chicken from the buttermilk onto a plate. Season both sides of the chicken with salt and pepper. 
Pass the chicken one piece at a time through the corn flour, coat the chicken well by dipping twice on each side. 
Step 6
Heat a large frying pan over a medium to high heat, add vegetable oil and fry the chicken for 4mins on each side but try to turn the chicken at least 3 times. Turning the chicken helps to create a crispy finish. Once cooked and ensure you do, place onto a paper towel to drain off the excess grease.
To check if the chicken is cooked- the juices should run clear and the internal temperature should be no less than 75°C.
Step 7
This dish can be made the day before. Dress the salad on the day, reheat chicken on greaseproof paper in a preheated oven at 200°C for 10mins.
Step 8
This dish is totally gluten free and has an abundance of flavour. Perfect for the family.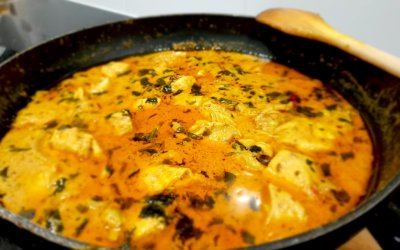 Servings 4Ready In: 1 hourGood For: Lunch or DinnerIngredients 600g chicken- on the bone 1/2tsp turmeric 5 cloves garlic- smashed 3tsp curry powder-of your choice 1/2 tsp dried chilli- I would add more if want spicy 1tsp fennel seeds 1tsp cumin seeds 1/2tsp rock salt...
read more