Good For:
Snack, Meal, Picnic, Canapé 
12 sheets filo pastry (30 x 30cm) 
1kg large leaf spinach- stalks removed
200g feta cheese
50g parmesan
50g butter
1/2 tsp nutmeg
2 egg yolks and 1 egg- beat together
40ml cream
1/2 lemon
30g mayonnaise
1 tsp Dijon mustard
1/2 tsp fresh thyme leaves
pinch cayenne pepper
salt and pepper to taste
150g melted butter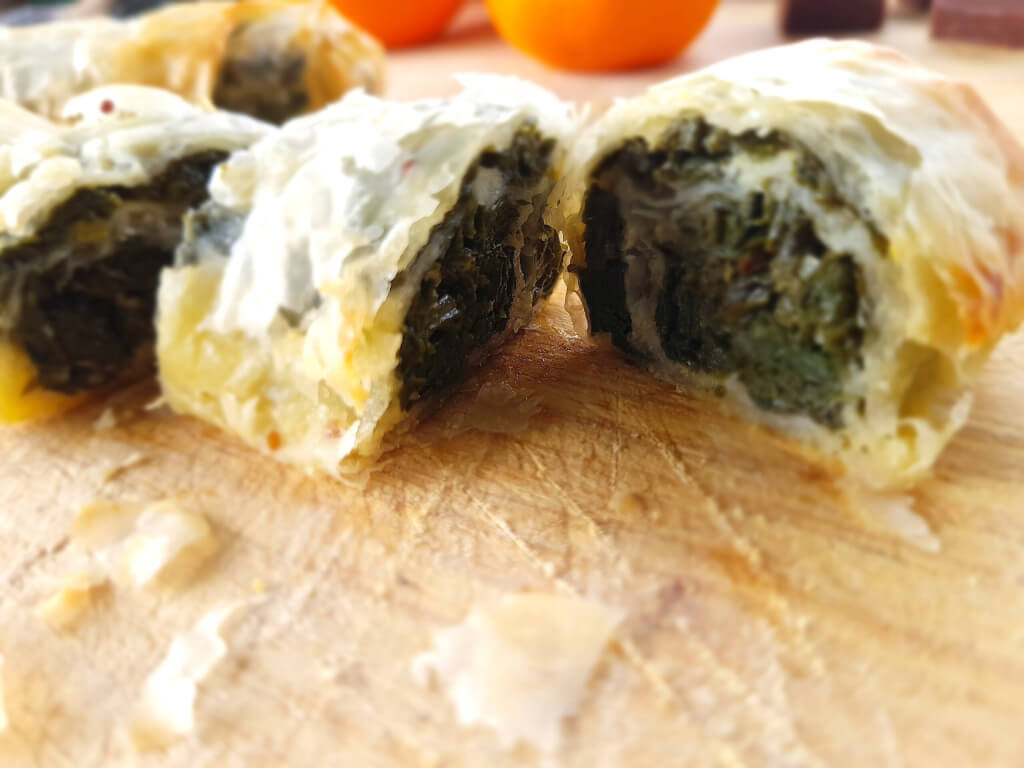 Step by Step Instructions
Step 1
Remove feta cheese from the fridge for 30 mins to warm slightly.
Place a large pot of salted water on to boil using a lid if you have one.
Wash the spinach at least twice in plenty of cold water, drain well in a colander.
Step 2
As soon as the water has boiled, cook the spinach in three batches by submerging the leaves and removing them into cold water immediately. Best cooking this quantity in batches to help retain nutrients and colour.
Drain the cooked spinach very well. I always squeeze my cooked spinach twice. I find plenty of water in the spinach after thoroughly squeezing hence the need for a second attempt at removing as much water as possible.
Step 3
Chop the cooked spinach using a large knife.
Heat a large frying pan over high heat, add butter and wait for the butter to brown slightly, add the spinach and cook while stirring for 1 min.
Season with nutmeg, salt, pepper and 1/2 lemon zest and juice. Remove from heat, stir through the egg mixture and pour onto a tray to cool quickly.
Sprinkle spinach with parmesan and stir through.
Step 4
To make the feta puree which is quite different to the original spanakopita, I place feta cheese, Dijon mustard, cream, mayonnaise, thyme, cayenne and a little pepper into a blender.
Blend to a puree, adding more cream if needed to puree the cheese. Season to taste with salt.
Step 5
 Unwrap the filo and keep covered with a cloth during folding as this pastry dries very quickly.
Brush melted butter over one piece of filo. Don't cover the pastry in butter as it's only used to help stick another another piece on top, about a tsp for each spanakopita.
Stick 1 piece of filo on top of another and spread some feta puree down the middle section of the filo, lengthways. 
Leave a border and avoid spreading to the edges. 
Place two piles of spinach on top of the feta, one pile at the end and one in the middle. Spread each pile across the pastry (not lengthways) but don't go to the edge.
Step 6
Wrap the pastry from the spinach end, rolling quite tightly and wrapping in the edges as you go. I roll over once, pull in both edges all the way down, before rolling like a sausage roll nearly all the way down but not entirely. Before sealing and closing the pastry, brush a little butter to help glue the pastry shut. Brush melted butter all over the pastry and store on greaseproof paper.
My spanakopita will last up to 3 days in the fridge without spoiling if covered in melted butter.
Do the same for the rest to make 6 portions.
Step 7
Bake in a preheated oven at 175°C for 15-20mins or until golden brown and crispy.
If you over-cook the pastry it will crack due to steam escaping so try to remove it as soon as it's golden brown and hot.
I really love the Greek-inspired dish as it's quite simple, has fresh flavours and is full of flavour and texture.
If you cook this recipe, why not share a picture to #familykitchenwithmark
Happy Cooking
No Results Found
The page you requested could not be found. Try refining your search, or use the navigation above to locate the post.